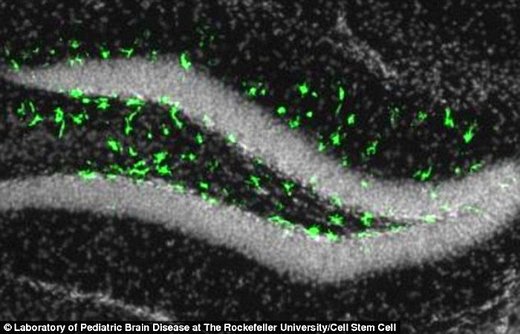 Much of the focus around the mosquito-borne Zika virus has been on pregnant women and brain abnormalities in fetuses, but now scientists think
some adult brain cells could be vulnerable too.
Infections may even be as destructive as Alzheimer's disease.
By
engineering mice
to mimic the human Zika infection, and using fluorescent biomarkers to tag infection sites, scientists at the Rockefeller University and La Jolla Institute for Allergy and Immunology found that
adult neural progenitor cells could be hijacked by the virus,
leading to brain shrinkage and mental impairment.
"Our results are pretty dramatic - in the parts of the brain that lit up, it was like a Christmas tree," said Professor Joseph Gleeson, head of
Laboratory of Pediatric Brain Disease at The Rockefeller University,
in a released
statement
about the new study. "It was very clear that
the virus wasn't affecting the whole brain evenly
, like people are seeing in the fetus."
Gleeson said in
healthy individuals, neural progenitor cells become fully formed neurons and are resistant to Zika,
but for some people with
weakened immune systems, they may be vulnerable to the virus.
The mature brain, Gleeson said, is learning, and memory that is impacted by Zika could bring about a
cognitive decline that is normally associated with Alzheimer's disease or depression.
"In the adult, it's
only these two populations
that are very specific to the stem cells that are affected by virus. These cells are special, and somehow very susceptible to the infection," Gleeson said. "Based on our findings, getting infected with Zika as an adult may not be as innocuous as people think."

Comment: Is this a case of finding a new threat in order to scare a new segment of the population and require more vaccinations to a bogus virus?