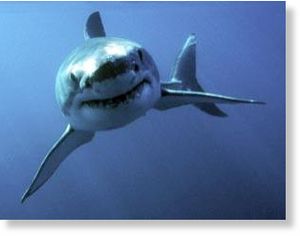 Great whites aren't all alike. Even though the sharks travel all over the Pacific Ocean to hunt, they tend to mate with others from the same area, forming genetically distinct groups.
That's what local great whites revealed to Barbara Block of Stanford University in California and her colleagues. The team headed out into the Pacific to find the sharks, which they lured to the surface using a silhouette of a seal. They then used a pole to attach two different tags to the sharks and took a sneaky biopsy at the same time. See the biologists tagging white sharks here.
GPS tags were used to track the long-distance movements of the creatures, allowing the team to follow their migration during the colder months from coastal areas to the deep ocean. The other tags gave off sonic "pings" that were picked up by sensors moored in coastal areas, providing more precise location fixes than the satellite measurements, so that the team could tell if the sharks returned to the same areas.