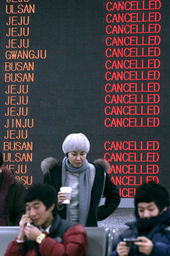 Planes were grounded and thousands of schools were forced to close as the heaviest snow in over six decades blanketed Beijing and Seoul on Monday, with temperatures plummeting across much of Asia.
One person was killed and at least two others were missing in the mountains of central Japan after heavy snow.
With temperatures falling in several Asian countries, Indian officials said over 40 people had died in a cold snap that has gripped parts of the north and prompted authorities to shut thousands of schools and dole out firewood.
Parts of China experienced heavy snow flurries, with the capital Beijing recording its heaviest daily snowfall in nearly six decades on Sunday, the state Xinhua news agency reported.
The Central Meteorological Administration reported that up to 30 centimetres (12 inches) had fallen on Beijing and Tianjin over the weekend. While skies were clear in the capital Monday, more snow was expected in northeast China.