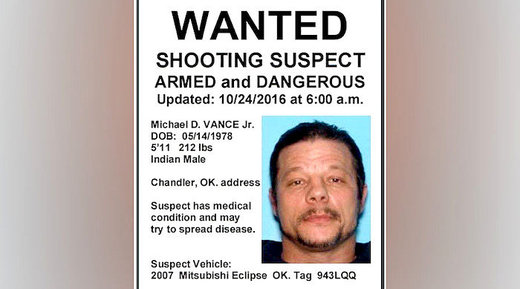 A man suspected of gunning down two family members and injuring two Oklahoma police officers broadcast part of his crime spree online using Facebook Live.
Oklahoma County police are still hunting
38-year-old Michael Vance,
who has been named as the chief suspect in the shooting of
Ronald Everett Wilkson, 55, and his wife Valerie, 54, on Sunday evening.
Facebook Live footage
purportedly filmed during the spree has since emerged online
showing Vance talking about stealing a car, showing off a gun and telling his sister to watch the local news channel.
Vance is alleged to have shot two Lincoln County officers during his escape before stealing a police truck and then carjacking at least two other vehicles, according to investigators. "This is more intense than what I thought it was going to be, to say the least," the
convicted felon
can be heard to say in the Facebook footage. "This truck is about dead. I need it to get out of the road, which I hope it does because I'm about to steal another car, like right now. This sh*t gonna be intense."

Comment: Convicted felon? Why is he on the loose?