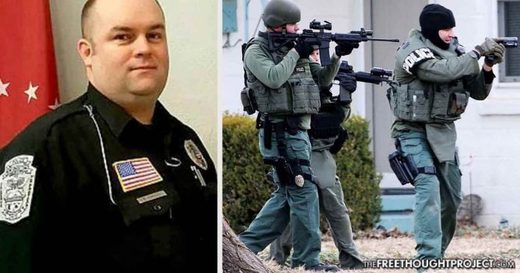 On April 11, 2017, Newcomerstown police launched a massive statewide "Blue Alert" manhunt for two suspects who allegedly opened fire on officer Brian Eubanks. Departments statewide combed the streets looking for two men in a black Geo Tracker, one wearing a red sweatshirt and the other wearing a lime green shirt. One was in a tactical vest and they were armed with a shotgun and handguns, the attorney general's office said. Authorities even had a suspect's name, Chaz Gillilan.
Social media took to sharing the story and prayers were sent the officer's way. Local media kept the town updated on Eubanks' status, and the town was relieved when they found out he would make a full recovery.
But everyone - the police departments, the state politicians, the media, and the citizens - had all been duped.
Chaz Gillilan never shot at Eubanks, nor did the other mythical suspect. No, Eubanks shot Eubanks. That's right. The blue alert, the statewide manhunt, the deprivation of Chaz Gillilan's rights, all of these happened because officer Eubanks shot himself - in an attempt to collect workers compensation - and then fabricated an elaborate story to cover it up.