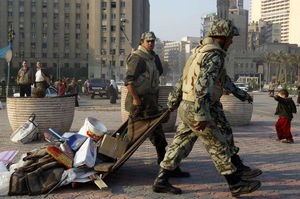 Army uses batons to break up demonstrations in capital Cairo demanding purging of Mubarak loyalists from government.
The Egyptian army has used force to disperse activists gathered in Cairo's Tahrir Square to demand the removal of Hosni Mubarak loyalists from the interim cabinet.
Egyptian soldiers fired in the air and used batons in the early hours of Saturday to disperse the crowd, the Reuters news agency reported.
Demonstrators had also gathered in front of the parliament building in Cairo, where police beat protesters and used tasers to suppress the crowds, an Al Jazeera producer in the capital reported.
The Supreme Council of the Armed Forces, the ruling military council, later apologised for the military's response and said the situation "wasn't intentional".