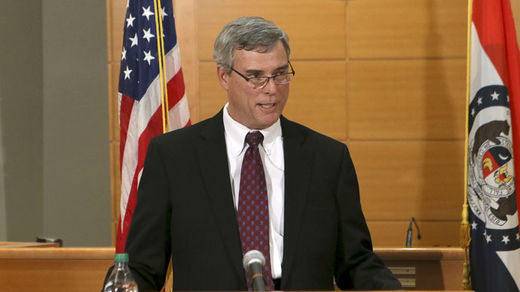 Some witnesses obviously lied while testifying under oath to the Ferguson grand jury that ultimately declined to indict 18-year-old Michael Brown, said the St. Louis county prosecutor in charge of the case, Bob McCulloch.
Speaking with KTRS radio, McCulloch said his goal was to have any individual who claimed to be a witness testify before the grand jury.
"Clearly some were not telling the truth," he said.
Specifically, McCulloch noted that one woman in particular who said she witnessed the shooting but "
clearly wasn't present
." According to McCulloch, "she recounted a story right out of the newspaper" that matched up with the account of Ferguson police officer Darren Wilson, the officer who shot and killed Brown on August 9.
Notably, the account given by this witness, identified as Sandra McElroy by the
St. Louis Post-Dispatch
, was scrutinized in great detail by investigators, who eventually concluded she could not have seen the shooting like she said she did. McElroy claimed she saw Brown charge at Wilson before he was shot.
Despite apparently knowing some witnesses were not telling the truth,
McCulloch said he does not have second thoughts about the way he conducted the case,
nor does he plan on pressing charges against those who lied
.

Comment: He knew he was presenting lies to the grand jury. That's American justice for you.


"It's a legitimate issue," McCulloch said, as quoted by
NPR
. "But in the situation - again, because of the manner in which we did it - we're not going to file perjury charges against anyone.
There were people who came in and yes, absolutely lied under oath
. Some lied to the FBI - even though they're not under oath, that's another potential offense, a federal offense."