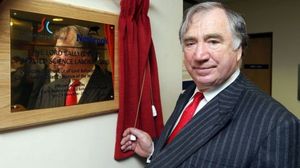 Northern Irish member of Britain's House of Lords Lord Ballyedmond has been killed in a helicopter crash in rural Norfolk, east of England.
On Friday, British police named Lord Ballyedmond as one of the four people who died in the chopper crash in the English county of Norfolk.
The helicopter came down in thick fog at the village of Gillingham, near Beccles on Thursday evening. The aircraft was reportedly travelling to Northern Ireland, and it crashed near a stately home owned by the Conservative peer.
Lord Ballyedmond, known as Northern Ireland's richest man, was the chair of Norbrook, the largest privately owned pharmaceutical company in the world.
"The helicopter has been confirmed as a civilian aircraft and the four occupants on board are thought to have died in the crash. Next of kin will be informed before further details of a deceased are released," a Norfolk Police spokesperson said.