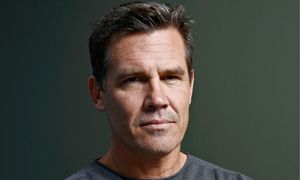 Labor Day
spins the story of Frank, an escaped convict who gatecrashes suburbia and proceeds to cook a peach cobbler to die for. "Let's put a roof on this house," says Frank, up to his muscled forearms in flour, as he prepares to add the pastry to the filling.
Labor Day
, it should be noted, is not a film to skimp on its metaphors. The peach cobbler represents the tumbledown family home, sad and broken and in need of repair. No doubt it also represents Frank, whose crusty exterior contains a warm, gooey centre. Perhaps it even says something about the actor who plays him too.
If you're looking for the classic outsider on the inside, a study in friction, then
Josh Brolin
's your man. He is the child of privilege who trails a rough and tumble history; the self-critical nerd in the body of a jock; a 21st-century movie star who is out of joint with his time. When I walk in the room, he is slouched on the couch, leafing through a magazine spread of pictures from the sets of the original
Star Wars
films. Brolin marvels at antique black-and-white shots of members of the cast and crew; he can barely tear himself free. "Ah, there they are," he says. "All drunk and coked up."