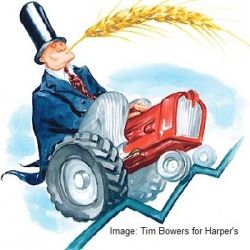 In a January 2008 meeting, US and Spain trade officials strategized how to increase acceptance of genetically modified foods in Europe, including inflating food prices on the commodities market, according to a
leaked US diplomatic cable
released by WikiLeaks.
During the meeting, Secretary of State for International Trade, Pedro Mejia, and Secretary General Alfredo Bonet "noted that commodity price hikes might spur greater liberalization on biotech imports."
It seems Wall Street traders got the word. By June 2008, food prices had spiked so severely that "
The Economist
announced that the real price of food had reached its highest level since 1845, the year the magazine first calculated the number," reports Fred Kaufman in
The Food Bubble: How Wall Street starved millions and got away with it
.
The unprecedented high in food prices in 2008 caused an additional 250 million people to go hungry, pushing the global number to over a billion. 2008 is also the first year "since such statistics have been kept, that the proportion of the world's population without enough to eat ratcheted upward," said Kaufman.