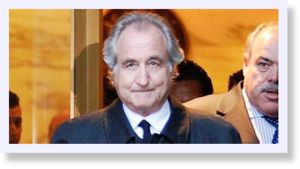 Be true to yourself, and keep your inner Madoff where he belongs.
How do you recognise a psychopath? It's not easy. You can start by reading or watching the film of
The Talented Mr Ripley
by Patricia Highsmith. Tom Ripley is a man with no prospects who inveigles his way into the lives of the wealthy East Coast elite and, when it seems his con is about to be found out, murders them. Ripley has no moral core.
Or you could study Bernie Madoff, the creator of the world's biggest Ponzi scheme. Ripley is fictional, Madoff is real: but in the mind of a psychopath reality is only a construct, so what's the diff? Like Ripley, Madoff was an impostor in the moneyed world he inhabited until his downfall. Like Ripley, Madoff also appeared not to feel any shame for his crimes.
At the time of his trial a Vanity Fair reporter observed that Madoff smirked and did not say sorry.
"A sincere apology would imply remorse - a conscience. But then, if Madoff had a conscience, he would have committed suicide by now."