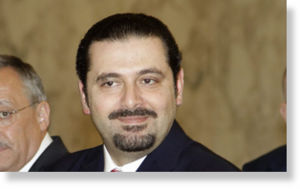 Sa'ad al-Hariri signals further rapprochement with Syria, saying it was a mistake to blame Damascus for his father's 2005 murder.
Lebanon's prime minister, Sa'ad al-Hariri, has said it was a "mistake" to accuse Syria of the assassination of his father, Rafiq al-Hariri.
Hariri's comments mark part of the ongoing reconciliation between the two countries following Syria's withdrawal from Lebanon after the "
Cedar Revolution
" protests that were triggered by the 2005 killing.
"At a certain point we made a mistake in accusing Syria of assassinating the martyred prime minster,"
Hariri told al-Sharq al-Awsat
, the London-based Saudi daily. "
That was a political accusation and that political accusation has now come to an end
." The UN tribunal investigating the affair would look "only at the evidence", he added.