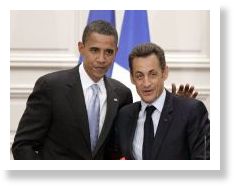 Eleven million French people live in poverty. France is going through its biggest crisis since 1929. At least 13.5 percent of the population in France has to exist with less than 954 Euros per month, 3.3 percent with less than 640 Euros.
Their monthly income would be just enough for 13 plates of lobster ravioli at Fouquet's, the posh restaurant on Champs-Elysées in Paris, where the incumbent president Sarkozy and his cronies like to dine out.
He has used his mandate to serve the rich, giving them fiscal gifts of tax exemption, for example his special friend, the notorious billionaire, Liliane Bettencourt (Oréal), who financed his election campaign in 2007. One hand washes the other, of course. "You'll finance my election campaign and I'll give you a nice tax gift in return."
The French working classes find their president's lifestyle indecent, even obscene. Sarkozy loves the bling-bling of France's nouveau riche Zionist elite, wearing expensive suits, stylish sunglasses and adorning himself with a wife who is much taller and much younger than him, ex-model and singer Carla Bruni, who recently had a new face lift and a new baby.