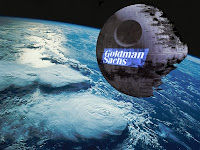 If anyone ever doubted that Goldman Sachs could get any sleazier than the reputation the institution has garnered over the last few years, recent discoveries regarding the major bank's ties to underage prostitution have served to aid in sullying the name even further.
Earlier this month, Nicholas Kristof of the
New York Times
revealed in his article, "
Financiers and Sex Trafficking
," that Goldman Sachs was a 16% stakeholder in one of the biggest public sex trafficking forums in the United States -
Backpage.com
.
I say "public sex trafficking forums" because Backpage is obviously publicly accessible, while more hardcore and illegal activities are clearly hidden from the view of the general citizen. This is because many of the patrons of such operations tend to be the very wealthy in addition to the average run-of-the-mill sexual deviant living in his basement who might be more likely to consult Backpage for its services.
For those unfamiliar with the story, Backpage is a website that provides ads for "escort services" all across the United States and in most metropolitan cities. Of course, many of these ads are placed and answered by consenting adults. However, it is also true that there is a great deal of
evidence
to show that Backpage
plays a role
in trafficking
minors
and women coerced into prostitution.
Interestingly enough, Backpage is owned by Village Voice Media (VVM), which
also owns
the
Village Voice
,
SF Weekly
, and
LA Weekly
. VVM is also the company where Goldman Sachs held about 16% of stock. Not only that, but Scott L. Lebovitz, who was a Goldman Sachs managing director who Goldman claims stepped down in 2010, sat on the Village Voice Media board for years.