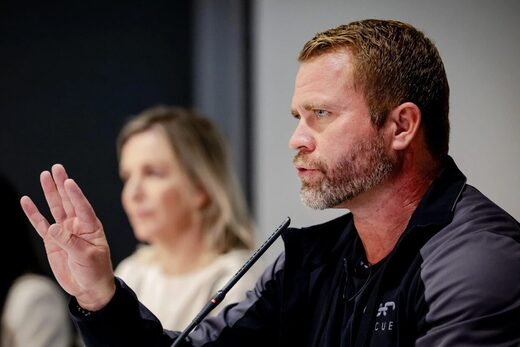 Ballard, an anti-sex trafficking activist, said in a statement that "the latest tabloid-driven sexual allegations are false."
Tim Ballard
, the anti-sex trafficking activist whose exploits inspired the blockbuster movie
"Sound of Freedom,"
was under investigation for allegedly coercing at least seven women to act like "wives" while on overseas missions when he resigned three months ago from the nonprofit child rescue group he founded, according to a news report published this week.
Ballard, a former Homeland Security agent who founded the Utah-based "Operation Underground Railroad" in 2013, denied the allegations laid out in a
VICE News story
that cited sources with direct knowledge of the organization.

Comment: Vice magazine citing unnamed "sources with direct knowledge" is really all you need to know about the veracity of the allegations.


"As with all of the assaults on my character and integrity over many years, the latest tabloid-driven sexual allegations are false," Ballard
said in a statement
released by his new anti-trafficking organization, The Spear Fund. "They are baseless inventions designed to destroy me and the movement we have built to end the trafficking and exploitation of vulnerable children."
Ballard, a married father of nine, added that while at the helm of OUR he "designed strict guidelines for myself and our operators in the field."
"Sexual contact was prohibited, and I led by example," it said. "Given our meticulous attention to this issue, any suggestion of inappropriate sexual contact is categorically false."
In response to an email from NBC News, OUR confirmed that Ballard resigned on June 22 but did not explain why he left. It did state the organization has "retained an independent law firm to conduct a comprehensive investigation of all relevant allegations."
"O.U.R. is dedicated to combatting sexual abuse and does not tolerate sexual harassment or discrimination by anyone in its organization," the statement said.
Ballard got a nearly $200,000 raise from OUR in 2022, records show.
In 2022, as CEO of the organization Ballard was paid $546,548 in salary and compensation, according to the most recent 990 form that nonprofits are required to file with the IRS. A year earlier, Ballard was paid $355,000 in salary and compensation, according to the group's 990 form from 2021.
A month after Ballard left OUR, an
anonymous letter
was sent to organization employees and donors.
"Several weeks ago, an OUR employee who accompanied Tim on an undercover operation filed a sexual harassment complaint against him with OUR's HR department," the letter said, according to a copy shared with NBC News by veteran broadcast journalist
Lynn Packer
, who has been covering Ballard for years. "This resulted in an extensive internal investigation into Tim and his individual operational tactics and led to more women speaking up as part of the investigation process."
"It was ultimately revealed through disturbingly specific and parallel accounts, that Tim has been deceitfully and extensively grooming and manipulating multiple women for the past two to three years with the ultimate intent of coercing them to participate in sexual acts with him, under the premise of going wherever it takes and doing 'whatever it takes' to save a child."
NBC News has reached out to OUR about the letter but has received no response.
Ballard, who was played in the movie by actor Jim Caviezel, has long been a staunch supporter of former President Donald Trump and has said publicly that he is
"very seriously considering"
running for the U.S. Senate seat being vacated by Sen.
Mitt Romney
, R-Utah.

Comment: They include the irrelevant fact that Ballard is a Trump supporter as an attempt to further smear his character.


But Ballard may already be in trouble with a key constituency in Utah — the Mormon Church.
VICE reported
earlier this month that Ballard claimed his work with OUR got the blessing of M. Russell Ballard, who is acting president of the Quorum of the Twelve Apostles of The Church of Jesus Christ of Latter-day Saints — and no relation to Ballard.
In response, the church released
a rare and personal rebuke
of Ballard insisting that it "never endorsed, supported or represented OUR, Tim Ballard or any projects associated with them."
"Once it became clear Tim Ballard had betrayed their friendship, through the unauthorized use of President Ballard's name for Tim Ballard's personal advantage and activity regarded as morally unacceptable, President Ballard withdrew his association," the statement said.
Tim Ballard responded to the condemnation in a
news conference
this week.
"President Ballard is like a grandfather to me," he said. Never in my life, never, have I used his name to raise money, to make some business deal."
He added: "It's never happened."
Corky Siemaszko
is a senior reporter for NBC News Digital.