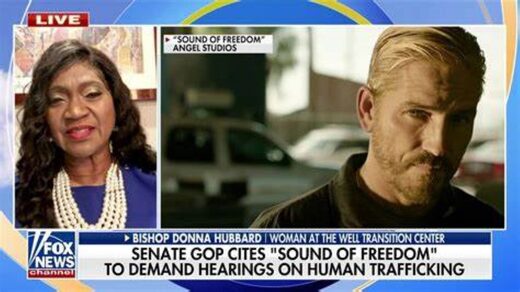 Several GOP lawmakers have demanded hearings on human trafficking.
"
Sound of Freedom
" shattered box office expectations, raking in over $140 million across the U.S. and casting a spotlight on one of the most overshadowed problems in today's world.
Human trafficking survivor Bishop Donna Hubbard said she's not surprised by the film's success, however, and praised it for raising so much awareness that even congressional lawmakers are jumping in to call for action.
Hubbard joined "
Fox & Friends Weekend
" on Sunday where she weighed in on the issue. "[This is] something that is so personal for me, but it's also the number one human rights issue in the world, in our generation and in our time," she said.
She later added, "The trafficking of people of color did not just begin with the human trafficking movement, so that we need to understand that it was beyond our comprehension to think about trafficking children. However, trafficking people of color from around the world, whether it was the Caribbean or Africa, has happened for many, many years, long before this. But the fact that human trafficking now knows no gender, no age, no ethnicity, it is, like I said, the number one human rights issue. That [the movie] brings it to the forefront of the conversation."
"It's not a surprise that this movie became popular or that it's such a hit because now people are identifying human trafficking as more than just sexual exploitation."
In D.C., Senate Republicans are demanding hearings on human trafficking and the Biden administration's border policies, noting that the film shed light on the crisis.
Sens. Ron Johnson, Mitt Romney, Rand Paul and Tom Cotton are among several lawmakers who signed a letter calling for the hearings, citing an estimated 17,500 victims each year.
The GOP officials allege the Biden administration's "open border policy" fortifies the drug, sex and human trafficking industry.
Meanwhile, the film, starring Jim Caviezel, Mira Sorvino, and more, has garnered criticism from
some who allege
its most outspoken advocates have ties to conspiracy-based group QAnon.
Media outlets, including the U.K.'s The Guardian and Jezebel are among those that have drawn the link.
Despite the apparent hate, others, like Hubbard, tout the film as a beacon of hope and healing for victims who are not being heard.
"I think it's most important that people are truly informed about all forms of trafficking, because for so many years, human trafficking was just considered as sexual exploitation. And I think that we know now human trafficking is so much more than sexual exploitation," Hubbard told
Fox News' Rachel Campos-Duffy.
"We have to really identify all forms of human trafficking, and those include involuntary organ donors, sex, sexual exploitation and, of course, pornography. But we also have to look at child soldiers and child brides, how they relate to modern times and our inner city situations with children, adoption, how some of those have been used by traffickers as well. Then, of course, there is labor trafficking and labor trafficking being the number one form of trafficking based on international labor organization statistics."
She said the other aspect of human trafficking that needs to be up for discussion is how children are enticed into it, particularly with regard to social media recruitment and how, in many cases, victims are criminalized themselves.
"Legislators have to begin to look at not criminalizing the victims. So often victims are criminalized themselves, as in my case, but so often victims are criminalized that we forget to look at the backside of human trafficking. And I think all of that needs to be considered," she said.