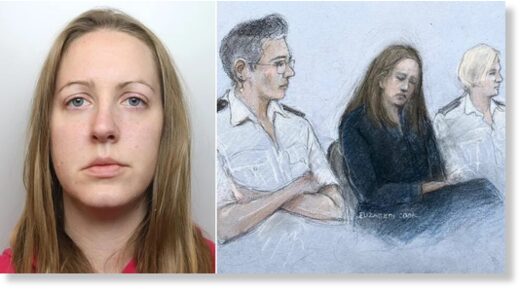 Lucy Letby will spend the rest of her life in jail after being sentenced to a rare whole life order for her "cruel, calculated and
cynical campaign of child murder
".
The country's
worst child killer will die in prison
after she refused to attend her sentencing in what families described as "one final act of wickedness".
Letby, 33, was convicted by a jury of murdering seven babies and trying to kill six more while working at the Countess of Chester Hospital neonatal unit between 2015 and 2016.
At Manchester Crown Court on Monday, Mr Justice Goss said there was "premeditation, calculation and
cunning in your actions
" as he handed down a whole life order.
Addressing the nurse, he said: "You acted in a way that was completely contrary to the normal human instincts of nurturing and caring for babies and in gross breach of the trust that all citizens place in those who work in the medical and caring professions.
"The babies you harmed were born prematurely and some were at risk of not surviving, but in each case you deliberately harmed them, intending to kill them."
'Malevolence bordering on sadism'
Mr Justice Goss, who at times appeared emotional, added that Letby had
abused the trust of parents
who expected her to be caring for their children.
He added: "By their nature and number, such murders and attempted murder by a neonatal nurse entrusted to care for them is a case of very exceptional circumstances. This was a cruel, calculated and cynical campaign of child murder.
"There was a deep malevolence bordering on sadism in your actions.
"During the course of this trial,
you have coldly denied any responsibility for your wrongdoing.
"You have no remorse. There are no mitigating factors."
Sentencing her to a whole life order for each offence, he said: "You
will spend the rest of your life in prison
."
More than a dozen relatives of Letby's victims sat in the public gallery for the hearing and eight jurors returned to see the sentencing.
Earlier, the court heard harrowing
victim impact statements from the families
of Letby's victims.
The mother of Child E, a premature-born boy who died, and Child F, his twin brother who survived, told the court the nurse's refusal to appear was "just one final act of wickedness from a coward".
The nurse was found guilty of murdering Child C by forcing air down a feeding tube and into the baby boy's stomach.
Referring to a handwritten note found at Letby's house, the baby's mother held back tears as she told the nurse in her absence: "At least now there is no debate that, in your own words, you killed them on purpose. You are evil. You did this."
Letby has become only the fourth woman in UK history to be told she will never be released from prison.
The others are include Myra Hindley, the girlfriend of Moors murderer Ian Brady, who died in 2002, and serial killers Rose West and Joanna Dennehy.
Following the sentencing, Det Ch Insp Nicola Evans said: "The sentence reflects the true scale and gravity of her horrific crimes and ensures that a calculated and dangerous individual is behind bars for a very long time.
"Nothing will bring back the babies who died or take away the pain and suffering experienced by all of the families over the years but I hope that the significant sentence will bring some comfort at this dark time.
"The victim impact statements read out in court today on behalf of the parents are a chilling reminder of the pain and suffering that each family has had to endure over the years.
"Hearing their own experiences in their own words has been truly heartbreaking."
Letby's parents did not turn up at court to see their daughter sentenced.
Susan, 63, and John, 77, attended Manchester Crown Court every day during the 10-month trial.
Early last week, when the jury reported the first guilty murder verdicts, Susan Letby broke down in court, crying out: "You can't be serious. This cannot be right."
She was still weeping as she left the courtroom and neither parent was in court last Friday, when the final guilty verdicts were handed down.