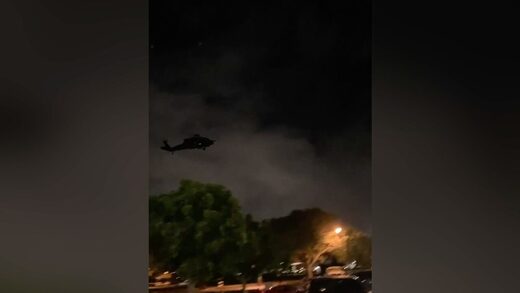 Some Point Loma residents were startled Monday night by several loud "bangs" and
low-flying helicopters just outside their homes
.
San Diego Police confirmed to ABC 10News the situation was part of a "pre-planned military exercise."
"The house was literally vibrating
with it ... it was scary! I immediately thought there's something really serious going on in the neighborhood," said Point Loma resident Martha Pistacchi.
Residents say living in this area, they're used to frequent aircraft overhead.
Comment:
Note that it wasn't just Point Loma
where
this exercise took place: 'The helicopters were seen in other nearby neighborhoods on Tuesday.'
"But this time was different. I honestly thought something was going to land on the roof," said Pistacchi.
Neighbors say the
helicopters did briefly land in a park near Liberty Station
.
"This area behind me is where they came in and landed," said one father, who told ABC 10News
his daughter was frightened by the noise that began around 8 p.m. and continued past midnight
.
"I get the training aspect of things. The problem I have is that
there was no public notice,"
he said.
"They do need to train, but it's OK to let the public know not specifically what they're doing but that they're going to be in the area and you may be hearing these sights and sounds for this period of time," said resident Steve Ravellette.
U.S Army officials issued the following statement to ABC 10News:
"Members of the U.S. Army are conducting coordinated, essential military training in designated locations around San Diego, California, Jan. 24 to Feb. 04, 2023.

Comment: Note that the area is home to a US Navy facility.


The training consists of air and ground mobility operations and close-quarter combat training to enhance soldiers' skills by operating in a realistic environment.
Safety precautions are in place to protect participants, along with planning considerations to minimize impact to the community.

Comment: It doesn't sound like the impact to the community was kept to a minimum.


This training was coordinated with appropriate officials."