About koyaanisqatsi Left the metropolis of Southern California to live on the Ozark Plateau with it's karst topography of caves and springs and the ever forming swallows (small sinkholes)a big trees which thankfully semi protect me from 5g. Never have or will do Fazebook still use a flip phone have dogs feed birds and do free legal work for those who are overwhelmed and have no money after cps takes their children.Something of which I am quite proud to do. Can you guess my profession before I chucked it all? (the clothes the fund raisers the traffic the mortgage the unfulfilling stuff the stress the appointments booked months in advance pert near all of it except my dogs. Dogs are good)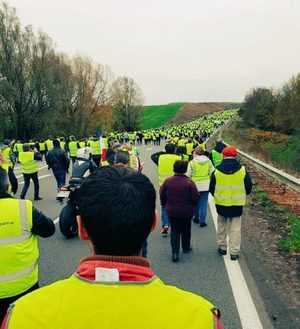 La France En Marche: Mass protests against rising taxes in France, 17 November 2018
For the great enemy of the truth is very often not the lie - deliberate, contrived and dishonest - but the myth - persistent, persuasive, and unrealistic. Too often we hold fast to the clichés of our forebears. We subject all facts to a prefabricated set of interpretations. We enjoy the comfort of opinion without the discomfort of thought.
- John Fitzgerald Kennedy
Recent Comments
If Julian wasnt an elk lynx and puma man... he d been a corpse a long time ago. (1st of all he wouldnt have survived his mom s crazy nomafic...
---
John Brennan, Victoria Nuland, Bill and Hillary Clinton, and Barack Obama should be proud of the little bands of fascist thugs the CIA built in...
---
"I would avoid it completely, if I was primarily concerned with ease of life, but there is no damned way I am going to allow your ill-informed,...
---
The Whores 4 War always fund and manipulate both sides of every war! People who either believe and or support them in genocide and generational...
---
Under George W. Bush and then under Barack Obama, the IRS division that oversees charities was run by a controversial person named Lois Lerner...