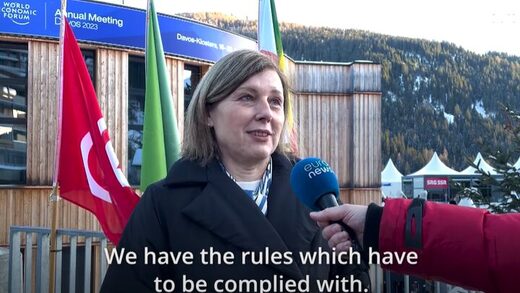 European Commissioner for Values and Transparency Věra Jourová warned that Twitter must follow European standards on speech or pay the price.
European politician Věra Jourová warned Elon Musk from the
World Economic Forum in Davos
that Twitter will face "sanctions" if it does not shut down some forms of speech.
Jourová, the European Commission's Vice President for Values and Transparency, told Euronews Next that Twitter may face penalties for enabling free speech in violation of European Union regulations. "The time of the Wild West is over," she said.
"We will have the Digital Services Act [DSA]. We will have the Code of Practice as a part of this legislation," Jourová said. "So, after Mr. Musk took over Twitter with his 'freedom of speech absolutism' - we are the protectors of freedom of speech as well. But at the same time, we cannot accept, for instance, illegal content online and so on. So,
our message was clear: we have rules which have to be complied with, otherwise there will be sanctions."

Comment: Musk does not promote or allow 'free speech absolutism', which reveals that this politicians stance is far from impartial.

Moreover, lest we forget that it was only once Musk took over Twitter that all the child pornography that was allowed to stay up by its previous owners, despite complaints to the company by governments, was finally removed. It's telling that this official and her ilk were not threatening Twitter back then.


New European legislation could fine tech companies for allowing freedom of speech to go unchecked.
"A suite of new legislation, including the DSA and the Digital Markets Act (DMA), was signed off by the EU parliament in October 2022 and is expected to come into force later this year,"
Euronews reported.

Comment: The establishment knows it's losing its grip on the narrative and, as with the moves to ban protests and strikes, it's rushing through draconian laws in its attempt to claw back control.


"Under the new regulatory framework, which aims to protect the rights of online users and remove illegal content or disinformation,
platforms could expect to be fined up to 6 per cent of their annual revenue
if found to violate the rules by EU regulators."
Jourová also recounted that in previous years, European politicians and big tech companies had "gentlemen's agreements" and other ways of negotiating aside from legislation.

Comment: Backroom dealings? That's not very democratic.


We had some 'gentlemen's agreements,' like the Code of Conduct against Hate Speech, which was very important in 2016 when we saw an extreme rise of hatred online targeted to concrete people or groups of citizens," she said, according to Euronews. "So, I always like to combine decent communication and discussion, and testing how far they can go under the framework of some sort of social responsibility."
Jourová previously made headlines on Tuesday when she suggested that America will soon have
"hate speech" laws
of its own.
"What qualifies as hate speech, as illegal hate speech, which you will have soon also in the U.S.," she said to fellow World Economic Forum panelist Rep. Seth Moulton, D-Mass.
"I think that we have a strong reason why we have this in the criminal law, we need the platforms to simply work with the language and to identify such cases."
Musk's leadership of Twitter has been a notable departure from restrictive speech trends both on Twitter itself and Big Tech in general. In late December, Musk proclaimed, "New Twitter policy is to
follow the science
, which necessarily includes reasoned questioning of the science."