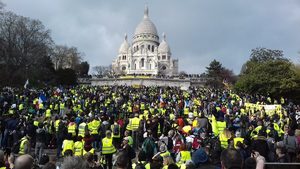 Acte XIX: Sacré-Coeur, Paris, 23 March 2019
Confucius has no interest in falsehood; he did not pretend to be prophet; he claimed no inspiration; he taught no new religion; he used no delusions; flattered not the emperor under whom he lived.
- Voltaire
Recent Comments
Yeah, it was a lie all right - one designed to inflame and distract.
---
A bigger pair of grifters peddling Pseudoscience meant to dumbed down the citizens of the west and make them more useful as slave labor has never...
---
Stupid puppet show coming to an end.... she should realize that her tenue wasn't designed to last long... doesn't she feel how slack those puppet...
---
Like donuts, America sells Nothingburgers by the dozen.
---
labelling a patient non compliant breaks the hypocratic oath. My body, my choice not theirs. Arrogance led by bad government and an...