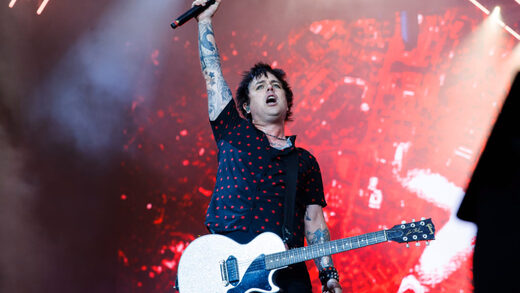 Comment: Maybe the most amusing thing about this story is that Billie Joe Armstrong lives in California, where abortion is still legal.


Green Day front man Billie Joe Armstrong announced that he planned to renounce his American citizenship during a Friday evening concert in London, saying that he wasn't kidding and that he intended to move to the United Kingdom instead.
Armstrong, who has never been shy about expressing his political opinions, was responding to the Supreme Court ruling in
Dobbs v. Jackson Women's Health Organization
, which
overturned
landmark abortion decisions in both
Roe v. Wade
and
Planned Parenthood v. Casey
.
"F*** America, I'm f****** renouncing my citizenship," lead vocalist and guitarist for Green Day @billiejoe said, as he called the US a 'miserable f****** excuse for a country.'
Hey Billie Joe — this is the country that made your career," @jules31415 tweeted, sharing video of Armstrong's comments.
'F*** America, I'm f***ing renouncing my citizenship, I'm f***ing coming here," Armstrong announced at the beginning of the show.
"There's too much f***ing stupid in the world to go back to that miserable f****** excuse for a country," he continued, and he paused for a moment as the crowd cheered. "Oh, I'm not kidding, you're going to get a lot of me in the coming days."
"Fox Across America" radio host and comedian Jimmy Faila responded to Armstrong's comments in a
tweet
, saying, "Green Day singer Billie Joe Armstrong says he's renouncing citizenship and moving to the UK over the repeal of Roe V Wade. S
omeone should probably tell him Europe has much stricter abortion limits than the U.S. does. Actually, on second thought ..."
"The good news just keeps pouring in. Bye bye loser," @catturd2 added.
Attendees at Friday's show also claimed that Armstrong yelled "f*** the Supreme Court of America" before opening the band's hit song "American Idiot" — which he has said was written out of frustration with political leadership in the United States.
He has previously performed in front of a backdrop that read "F*** Ted Cruz," and a couple of tracks from the album "American Idiot" — released in September of 2004 — were written to be a
critique
of the politicians and media who colored public perception of the war in Iraq.
"I would never think of American Idiot as being about the Bush administration specifically," Armstrong told The Spin at the time. "It's about the confusion of where we're at right now."
"The world's in a confused state," bassist Mike Dirnt added. "I'm pissed off, and I'm angry, and I feel like I'm not fully represented."