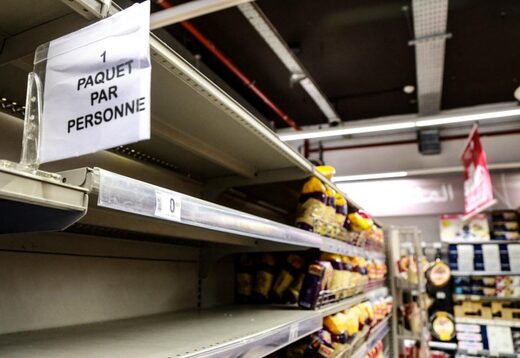 Increases in food prices triggered by
Russia's war in Ukraine
could kill "millions" of people globally,
Egypt
's finance minister has cautioned,
echoing warnings made by the UN and G7 countries
over the worldwide wheat shortage.
Mohamed Maait expressed concern regarding "food insecurity" around the world in
an interview
with
Financial Times
in London while
insisting that Egypt has enough wheat to last until the end of the year.
Ukraine and
Russia
are among the biggest producers and exporters of wheat, corn and cooking oil
, the global supplies of which have been threatened since Russia's 24 February invasion.
"This is something that we have to be very careful about," Maait said. "We will feel shame if we find that millions of people are dying
because of food insecurity. They are not responsible for that, they didn't do anything wrong."
Maait's comments
come days after UN secretary-general Antonio Guterres warned that the Ukraine conflict risked plunging "tens of millions" into famine
.
"Global hunger levels are at a new high," said Guterres. In addition to Russia's invasion of Ukraine, are the issues of climate change and the Covid-19 pandemic, which have
compounded a crisis that could last for years
, he warned.
Last week, G7 countries launched a "Global Alliance for Food Security" with the World Bank, to coordinate a short-term response that would avert famine.
Egypt to slash subsidies
Egypt has been hit particularly hard by the wheat shortage, as it is the world's biggest importer of the grain
, with Russia and Ukraine having been its biggest supplier before the war. Meanwhile,
the Egyptian government runs a large-scale subsidised bread programme that almost 70 million people depend on
.
Earlier this month, however,
Prime Minister Mostafa Madbouly assured the public that Egypt had wheat reserves for at least four months, in addition to plans to buy around 6 million tonnes of locally grown wheat. Still, Cairo is seeking new import sources, including potentially Pakistan and Mexico.

Comment: Even if what they say about reserves is true, China says it has enough for a whole year; what will Egypt do in just 4 months time, when much of the planet will be scrambling to find sources of grain?


Before Russia's invasion of Ukraine threatened wheat supplies, Egypt had plans to "rationalise" bread subsidies, which cost more than $3bn annually. While the conflict delayed such plans, Maait said the move should still be expected.
"So as long as the cost of bread and the cost of producing bread increases, so the cost of subsidy on the budget increases . . . It cannot go like that," he said. Altering bread subsidies was "not an imminent action", but "the intention to move is there . . . over a gradual basis", he continued.
Maait said Cairo also planned to reform the cash credits received by millions of Egyptians for food, streamlining the list of those eligible to ensure only the needy received them.