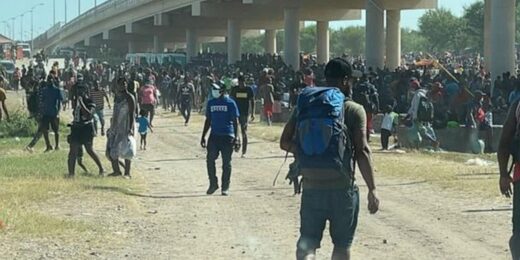 The Biden administration
announced
Friday that it will be terminating the Title 42 border policy at the end of May. "After considering current public health conditions and an increased availability of tools to fight COVID-19 (such as highly effective vaccines and therapeutics), the CDC Director has determined that an
Order suspending the right to introduce migrants into the United States
is no longer necessary," the Centers for Disease Control (CDC) said in a statement.
Fox News reporter Jacqui Heinrich tweeted Friday afternoon:
"NEW: CDC announces Title 42 to be terminated May 23. 'Following a public health determination, the CDC Director is terminating the Order ... The implementation of the termination of the Order will be on May 23 2022.'"
In consultation with the Department of Homeland Security, the termination will go into effect May 23 "to enable DHS time to implement appropriate COVID-19 mitigation protocols, such as scaling up a program to provide COVID-19 vaccinations to migrants and prepare for resumption of regular migration under Title 8," according to the CDC press release issued Friday.
The order was implemented under the Trump administration during the height of the COVID-19 pandemic. It's become one of the central border policies in place as America continues to contend with
a surge of illegal immigrants
at the United States border with Mexico.
Progressives have urged the Biden administration to end the order for months, claiming it has denied migrants due process.
"This is a momentous day for immigrant rights activists, and immigrants and refugees everywhere," Rep. Pramila Jayapal said in
a statement
, calling Title 42 "a cruel and discriminatory policy that circumvented U.S. law" and prevented migrants from "accessing protections established by Congress."
"Today is the product of years of advocacy from both inside and outside Congress. I'm thrilled to see the Biden Administration do the right and moral thing by ending this extremely harmful, xenophobic, and shortsighted policy that disproportionately impacted Black and Brown migrants," Jayapal said.
The Biden administration is reportedly
taking actions
and creating a so-called "war room" to prepare for an even more severe surge of migrants at the border.