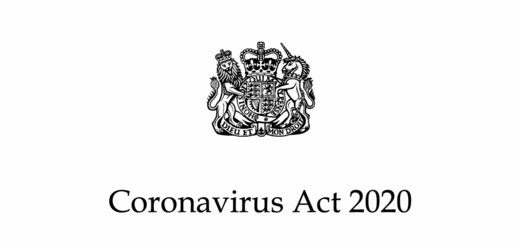 A Freedom of Information request has confirmed that
zero prosecutions have been made successfully
under the
Coronavirus Act
.
The request asked: "Since its inception - how many prosecutions have been made successfully under Coronavirus Act?" The
response
, given on Monday by the Crown Prosecution Service (CPS), reads as follows:
Since the CPS started its review on finalised cases charged under the Coronavirus Act 2020 (the Act) in April 2020 and up until February 2021, we found that all offences charged under the Act were incorrectly charged, and therefore discontinued because there was insufficient evidence to prove the offences under the Act. There were no cases where a suspect was convicted under the Act as of February 2021.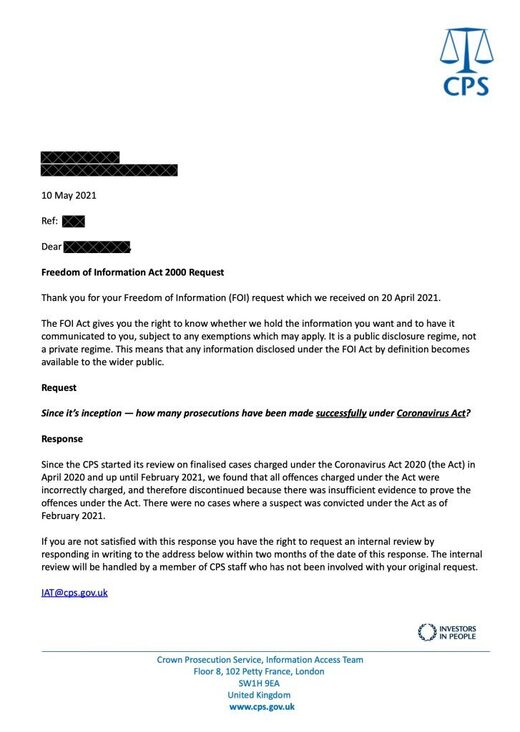 In April, the
Independent
reported on the "embarrassment" caused to the justice system by incorrect prosecutions made under the Coronavirus Act and the Health Protection Regulations.
Every one of the 232 prosecutions brought under the Coronavirus Act was incorrect, with its misuse described as an "embarrassment" to the justice system. [The figure will, of course, have gotten much higher.]

A further 127 wrongful charges were brought under the Health Protection Regulations, which were created to enforce the first nationwide lockdown in March 2020 and have been changed numerous times for different restrictions.

They represent around 12% of prosecutions under the law, which is more commonly enforced by police using fines...

The Liberty human rights group called for the Government to support people to follow health guidance rather than having a "relentless focus on enforcement"...

[Director Gracie Bradley said:] "It's... impossible to know how many unlawful fines have already been paid by people too afraid to challenge them - the Government must urgently introduce a right to appeal fines. Frequent and high-profile instances of arbitrary and wrongful enforcement have fanned the flames of mistrust."

The CPS figures only cover finalised cases in England and Wales, and more prosecutions are currently progressing through the courts.

Reports issued by parliament's Home Affairs Committee and Joint Committee on Human Rights had called for mistakes by police to stop in April, warning of the potential for miscarriages of justice and punishment "without any legal basis".

MPs said that some police officers appeared to be enforcing Government guidance rather than the law, and that differences between the two were causing confusion among the public and law enforcement...

The vast majority of wrongful prosecutions were brought by police and withdrawn by the CPS before people were convicted, but 56 cases had to be returned to court to be quashed.

They include a woman who was fined £660 for a crime she had not committed, five days after the Coronavirus Act became law last March.

It gives police the power to direct "potentially infectious persons" to a place suitable for screening and assessment, and take them by force if they refuse.

The law makes it a criminal offence punishable by a fine of up to £1,000 to refuse a direction, escape or provide false information.
Isn't it about time the Act was repealed?
The
Independent
report is worth
reading in full
.