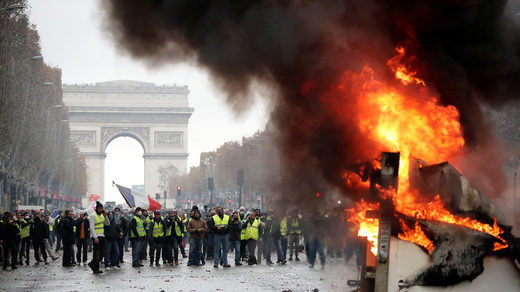 Tear gas and a water cannon were deployed in Paris as protesters again flooded the streets against fuel prices hikes. Thousands have been protesting across France against the measure, which resulted in massive blockades.
The tense standoff between riot police and demonstrators - some of them masked - escalated as law enforcement were pelted with bottles. Police fired back with tear gas and water cannon spay.
At one point some streets in the city center resembled a battlefield, covered with what remained of the barricades, which were set up from fences and trash bins. Even the Arc de Triomphe was barely visible due to the thick smoke. Possible smoke grenades were also used as people walked past the smoking projectiles.
RT's correspondent Charlotte Dubenskij has been caught in the midst of the rally and is giving more updates as the demonstration progresses.
AP footage also showed one of the protesters being dragged away by police in riot gear.
Eight protesters were arrested for throwing projectiles around noon, Le Figaro
reported
citing police.
Saturday marks the second week in a row that protests have been held in the French capital and across the country. Some 3,000 security personnel have been deployed to deal with the rally in the city alone.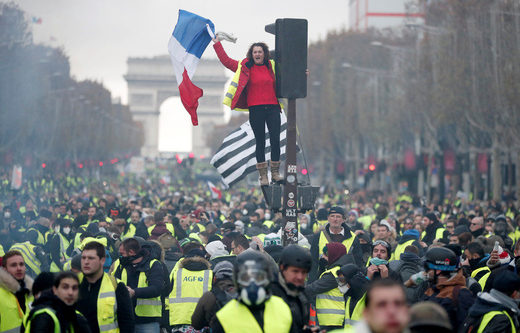 One of the videos from the unrest shows demonstrators chanting behind the improvised barricades before being forced to retreat as they were smashed by thick sprays from the water cannon.
The unease has been spurred on by rising fuel prices and a planned fuel tax. The 'Yellow Vest' movement, as it's called, is protesting the measure which is due to be in place from January 1, 2019. The government claims the move is aimed at promoting environmentally friendly practices. However, that has been met with a fierce response from the public.
Chaotic scenes emerged during similar rallies last weekend, with one marred by a death.
A woman tragically died during a demonstration in the southeastern region of Savoie as a panicked driver hit her after protesters surrounded the vehicle and began kicking at it. The driver then accelerated and knocked the woman down. Around 200 people were injured during the protests and over 100 were arrested.