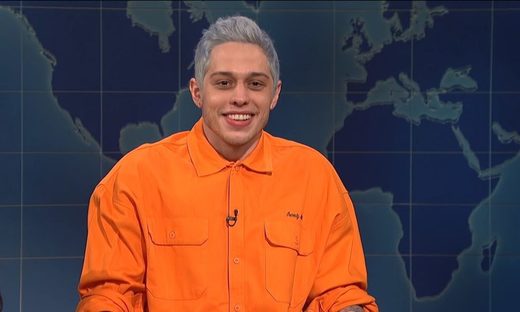 Once again senior politicians are taking the time to publicly react to the work of comedians. In a recent edition of
Saturday Night Live
, regular cast member Pete Davidson made a joke about Dan Crenshaw, a Republican congressional candidate in Texas. Renshaw wears an eye patch due to an injury he sustained during his time as a Navy SEAL, which prompted Davidson to liken his appearance to that of 'a hitman in a porno movie', before adding 'I'm sorry, I know he lost his eye in war or whatever'. In the inevitable Twitterstorm that ensued
Ronna McDaniel
, chair of the Republican National Committee, called on the NBC television network to apologise.
By now the phenomenon has become depressingly predictable: a comedian makes a joke, is denounced on social media, and issues an apology soon after. In this instance, the final step seems less likely to be taken, given that the target of the joke in question is on the political right. Whether the joke is best classified as 'punching up' or 'punching down' is a matter for debate. Some would argue that powerful public figures such as politicians are always fair game, but does this apply when the punchline relates to a war injury?
Those who seek to draw the parameters of acceptable topics for comedy frequently invoke this golden rule of 'punching up or down'.
But sometimes comedy works best when it is testing the limits of our tolerance and skipping lightly into moral minefields. To rid comedy of ambiguity is to undermine its potential impact. Offence is the least interesting response to comedy, because it cannot be anything other than subjective. There will always be those who will take satire at face value and therefore fail to understand its purpose.
As bored as most of us are with the incessant news stories about comedians 'crossing a line', this is a development that reveals something ugly at the heart of our culture. It is obviously anyone's right to criticise the quality or taste of a comedian's work,
but the tendency to demand apologies and retractions reveals a widespread censoriousness and entitlement. Worse still, those who claim to be offended are now taken so seriously that they have the collective power to force people out of their livelihoods because they don't share the same sense of humour.
This isn't just happening to comedians, either. Nobel Prize-winning physiologist Tim Hunt was
forced to resign
from his honorary research post at University College London after some light-hearted jokes he made about women in science were misrepresented by a feminist academic.
And only last week,
William Sitwell was forced to step down
as editor of
Waitrose Food
magazine following a joke he made about killing vegans in a private email to a freelance journalist. After he resigned, he issued the obligatory
apology
'to any food- and life-loving vegan who was genuinely offended' by his 'ill-judged joke'. I wish he hadn't.
This kind of pressure from social media is bad enough, but the state is also increasingly seeking to police humour and punish those who stray beyond what is considered appropriate. And many so-called liberals seem pretty relaxed about this.
In a
recent interview
with clinical psychologist Jordan Peterson, the journalist Helen Lewis made the case that the infamous criminal conviction of Markus Meechan for his
'Nazi pug' joke
was appropriate on the grounds that she does not consider him to be a comedian. Given that humour is a natural human instinct, it seems odd that only professional comics should be permitted to attempt it without fear of prosecution.
Hypersensitive reactions to comedy used to be associated with right-wing newspapers such as the
Daily Mail
, but in recent years leftist activists have assumed the role of society's prissy moralisers. Nevertheless, the uproar over Pete Davidson's mockery of Dan Crenshaw reminds us that the right are still just as capable of clutching their pearls when the mood takes them. Oddly enough, Crenshaw's reaction has been the most measured of all. Although he has said that joking about war veterans is in poor taste, he has also made it clear that neither Davidson nor NBC owe him an apology.
'I want us to get away from this culture where we demand apologies every time someone misspeaks', he said in an interview for
TMZ
. This is the kind of sensible response we're unlikely to see from those determined to take offence on his behalf.
Watch
The Curious Case of the Nazi Pug
below:
Andrew Doyle
is a stand-up comedian and spiked columnist. He is also the co-founder of
Comedy Unleashed
, London's free-thinking comedy club. The next gig is on Tuesday 13 November and features
Lee Hurst and Geoff Norcott
. Follow Andrew on Twitter:
@andrewdoyle_com