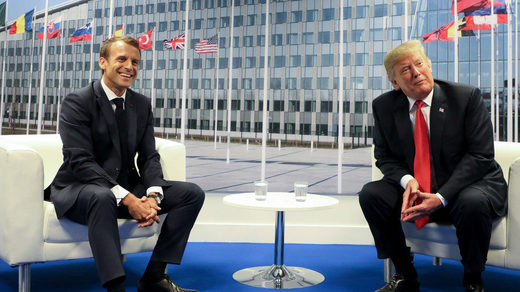 With US and the EU locking horns over economic and political issues, only 44 percent of the French see a safe partner in Washington. An overwhelming 80 percent disapprove of the US president's record, new poll shows.
The attitudes of the French towards their most powerful ally have changed drastically since Donald Trump won the 2016 presidential election
2016, revealed a new
survey
, commissioned by France's Foundation for Political Innovation and the Sursaut think-tank collective.
The poll, conducted September 10-11, found that less than half the respondents still consider the US to be France's trusted partner. The number, although not miniscule in itself, pales in comparison to the
77 percent of the French that considered the US their country's ally in 2014, under the administration of Barack Obama.
While the French society is divided on the issue of whether to trust the US or not, the attitude towards the current US president's policies is largely hostile.
A staggering 80 percent disapprove of Trump's policies that frequently put Washington at odds with France. A total of 83 percent of those polled said they hold a bad opinion of Trump, including 54 percent that described it as being "very bad."
However, some 75 percent of the French said that they differentiated between Trump's image and that of the US, refusing to regard the president as the sole embodiment of US values. Some 79 percent say that they treat ordinary Americans as friends, with 82 percent noting that they believe it is important to maintain friendly relations with the US.
The attitude of the French to the US current policies varies greatly depending on the issue. For instance,
74 percent see the US as a friend in the fight against terrorism.
In terms of economic well-being, the overall majority, some 78 percent, regard the US as an adversary to France and even more, 81 percent, perceive Washington as a threat to EU economic growth.
The US and the EU have been embroiled in a bitter trade dispute, slapping each other with sweeping tariffs on goods worth billions.
France is also divided on the Trump administration's handling of Russia, with 51 percent describing the US as an ally on the issue, and some 49 percent an opponent.
Meanwhile, the French Ambassador to Russia Sylvie Bermann said that Paris looks forward to cooperating with Moscow on a number of pressing issues at the UN Security Council, despite existing differences.
"President Macron is holding a very honest dialogue with the Russian party ... At the same time he finds it very important to develop relations between Russia and the European Union, between Russia and France ... We have some differences but
even if we disagree on some issues, Russia is a very important partner in the UN Security Council
and it is very important to boost this dialogue," Bermann said on Thursday, on the sidelines of the Eastern Economic Forum (EEF) in the Russian city of Vladivostok.