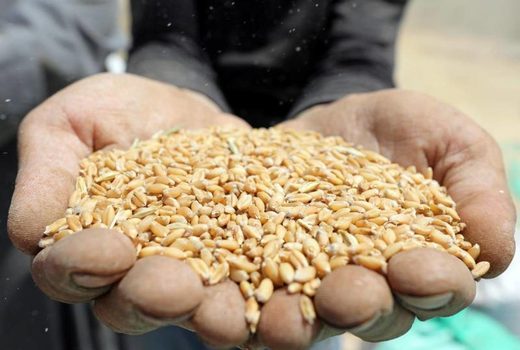 The scorching summer has ended five years of plenty in many wheat producing countries and drawn down the reserves of major exporters to their
lowest level since 2007/08
, when low grain stocks contributed to food riots across Africa and Asia.
Global stocks are expected to hit 273 million tonnes at the start of this years grain marketing season, according to U.S. Department of Agriculture estimates, but the problem is that
nearly half of it is in China, and they're not likely to release any onto global markets.
China is well aware of what's around the corner, and in recent years has implemented bullish plans to withstand any potential global food shortages.
It is predicted that by the end of the season,
the eight major exporters will be left with just 20% of world stocks - or 26 days' cover - down from one-third a decade ago.
The USDA estimates that China, which consumes 16% of the world's wheat, will hold 46% of its stocks at the beginning of the season, which starts now, and more than half by the end.
The 126.8 million tonnes China is estimated to hold is up 135% from 54 million tonnes five years ago.
"People need to get rid of China stocks (in their calculations) ... if you do that,
it's just exceptionally tight,
" said Dan Basse, president of AgResource Co in Chicago.
A repeat of the 2007/2008 crisis (occurring during solar minimum of cycle 23), which
forced many countries to limit or ban exports
, is a real possibility.
The recent four-year high for wheat prices of $5.93 a bushel pales in comparison to the high of $13.34-1/2 a bushel in February 2008.
The wheat crop in several of the world's biggest exporters - Argentina, Australia, Canada, the European Union, Kazakhstan, Russia, Ukraine and the United States - has
taken a severe hit this year.
Germany is set for its lowest grain harvest in 24 years
after crops wilted under the highest summer temperatures since records began in 1881.
Russia's agriculture ministry held a meeting with grain traders on Friday to discuss export volumes -
'curbs' may be imposed later in the season following complaints from domestic meat producers about the rising cost of animal feed.
We're seeing nations that ordinarily export beginning to hold onto their stocks.
We've lived through decades of plenty. But the Modern Maximum is over.
Take a leaf out of China's book, and stockpile.