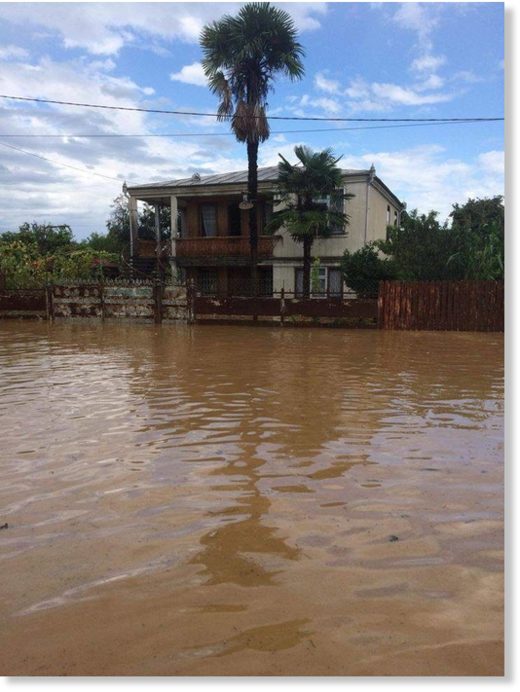 Heavy rain has caused flooding in several towns in western Georgia, damaging infrastructure, houses and causing traffic delays.
The Emergency Management Service of Georgia reports that their units are mobilized at every spot where help is needed and are carrying out pumping works.
As a result of abundant rainfall in Batumi, Andronikashvili, Ostrov, Komakhidze and Saakadze streets were flooded. The Emergency Management Service has already cleaned the drainage channels and pumped water from the residential houses. 150 notifications were received from Batumi residents by the Emergency Management Service.
The Agency added about 40 houses were flooded in Kobuleti due to the heavy rain. Water pumping works have been completed there.
There was a landslide in Tsinsvla village, which damaged pipes and left the village without the gas. The repairing and cleaning works have been launched there.

The rain and wind left Chakvi and nearby villages without electricity.
The Emergency Service Agency says the power supply will be restored as soon as the repair works are completed.
Samegrelo - Zemo Svaneti Emergency Situations Management Department received a total of 58 emergency calls from locals. Due to heavy rain, rivers flooded houses and streets.
The heavy rain also caused flooding of the River Tekhura in Senaki, which destroyed a bridge connecting two villages.
The Emergency Situations Management Service informs that as a result of the heavy rain and floods, no one was injured. The agency warns tourists and visitors that there will be a 4-magnitude storm at the Black Sea on August 10, adding swimming into the sea is prohibited.
Moreover, the Infrastructure Ministry also released a statement, asking the people to avoid driving towards Tusheti and Kazbegi, also, Senaki-Poti-Sarpi highway.
The ministry says the delays on the roads are caused by the heavy rain and wind.
"There are some problems on Khashuri-Akhaltsikhe-Vale road, also, the heavy rain flooded Senaki-Nokalakevi -Bandza-Khoni road sections. The cleaning works have already been launched," the ministry added.