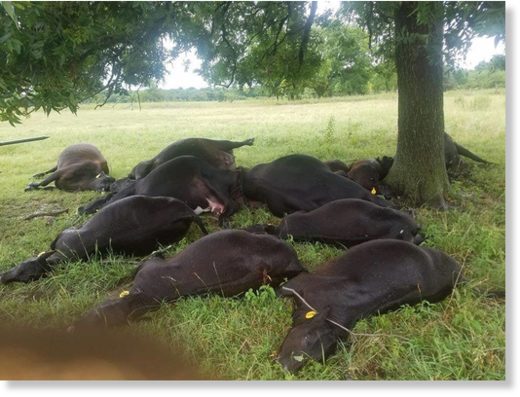 A lightning strike on a ranch in Oklahoma was not only a tragedy for the owners, but it also turned into a reminder of the lack of knowledge most people have about livestock production.
Jason Donathan, a cattle rancher from Henryetta, OK shared a photo with KOTV Channel 6 in Tulsa showing approximately 12 dead cattle under a tree. The group of primarily cows was killed by a lightning strike.
KOTV meteorologist Lacey Swope
shared the picture on her Facebook page
on June 24.
In the post Swope writes, "A cattle rancher's worst nightmare took place in Henryetta, OK last night. Jason Donathan posted this pic showing the devastation after lightning likely struck the tree as the cows were standing under it."
The Facebook post has more than 2,000 comments and has been shared nearly 15,000 times. Check out the post for yourself below:
Following the post there were a number of comments saying the rancher should have put the cattle inside a barn to protect them from the weather.
(Read more
here
)