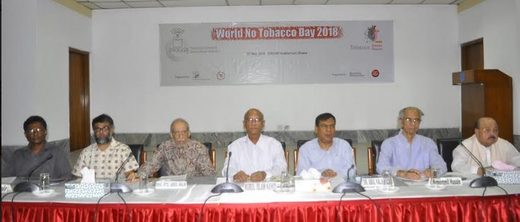 Stressing the importance of proper enforcement of law to reduce tobacco consumption in Bangladesh, speakers at a programme here on Sunday said the young generation needs to be made aware to make Bangladesh a tobacco-free country.
Speaking at a programme titled 'Tobacco Control Journalism Award-2018' organised by Progga at the Cirdap auditorium ahead of the World No Tobacco Day to be observed on May 31, Education Minister Nurul Islam Nahid said anti-tobacco awareness needs to be created among the new generation so that they do not get habituated to it and pressure others to quit tobacco.
Mentioning that topics like anti-terrorism and anti-drug messages have been included in school textbooks, the minister promised that
there will be clear message against tobacco in the textbooks from 2020, aiming to create awareness among children.
Citing a study that 90 percent shops within 100 metres of school and colleges in Dhaka city sell tobacco products, Nurul Islam said necessary actions will be taken so that such activities can be stopped.
National Professor Brig (retd) Abdul Malik, who is also Founder and President of National Heart Foundation of Bangladesh (NHFB), said, "Many of the 30-50 age group people suffer from ischemic heart disease, and one of the main reasons is consuming tobacco."
Prof Dr Abul Kalam Azad, Directorate General for Health Services, referred to the World Economy Forum Report of 2014 and said non-communicable diseases cause huge economic losses to both developed and least developed countries while among the diseases tobacco-related illness tops the list.
Muhammad Hasan Shahriar, Coordinator of Progga, presented some statistics showing the current situation of tobacco consumption in the country.
"According to 2014 WHO report, heart disease is responsible for 17 percent of deaths caused by non-communicable diseases in Bangladesh," he said.
During 2005 to 2016, heart diseases raised itself from the 7
th
position to the 1
st
position on the list of causes behind premature deaths while smoking contributes to 30 percent of all heart disease deaths, he said adding that currently around
43.3 percent of the total adult population are consumers of tobacco.
Shahriar also stressed the need for proper implementation of the existing tobacco control law and increasing the revenue of this sector in the upcoming budget for the fiscal year 2018-19.
"Our Prime Minister Sheikh Hasina has already identified tobacco as one of the impediments towards achieving Sustainable Development Goals (SDGs) and declared her commitment to transforming the country into a tobacco-free one by 2040. So, the lawmakers need to take proper measures to achieve the target", he said.
Among others, Murtoza Haider Liton, convenor of Anti Tobacco Media Alliance (ATMA), Dr. Mahfuzur Rahman Bhuiyan, Grants Manager of Tobacco Free Kids (CTFK) and Md Khairul Alam Shiekh Joint Secretary and Coordinator of National Tobacco Control Cell Ministry of Health and Family Welfare also spoke at the programme chaired by journalist Muzzammil Husain.
Five journalists from print, online and broadcast media were awarded for their contributions to creating anti-tobacco awareness through their works in media.
The awardees are Sirajul Islam, Chief Reporter of
Daily Sylheter Daak,
Dolon Akter, Special Correspondent of the
Financial
Express
, Abdul Kashem, Senior Reporter of the
Kaler
Kantho
, SM Atiq, Senior Correspondent of NTV and Golam Murtaza Jewel, reporter of
Daily Ajker Patrika
.