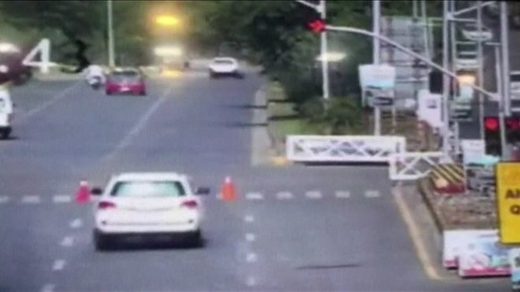 Pakistan has prevented a US diplomat from leaving the country after he allegedly killed a motorcyclist by driving through a red light last month.
Local press said on Saturday that a plane was sent by the US to collect Col Joseph Emanuel Hall, a military attache, but was denied clearance.
US officials have previously said he cannot be arrested or tried because he has diplomatic immunity.
The incident has increased political tension between the countries.
Ateeq Baig, 22, was killed in the crash in Daman-e-Koh, north of Islamabad, on 7 April.
CCTV footage showed a white four-wheel-drive - said to be driven by Col Hall - ignoring the red traffic light at an intersection, crashing with a bike at speed and then braking.
The US embassy has denied reports in Pakistan's media that Col Hall was drunk while driving.
The dead man's father has called for the colonel to stand trial at Islamabad High Court (IHC).
Comment:
From a
report
of the accident at the time:
"The traffic signal was red but he broke it and hit the motorcyclists coming from other side," a senior police officer told The Express Tribune. Police said there were two youngsters on the motorcycle, one of whom died on the spot while the other sustained injuries.

The deceased was identified as Ateeq Baig, 22. He hailed from Talhar village in the Margalla Hills while his father works as a security guard at a govt school in Saidpur village.
...
At the police station, the US official produced his diplomatic card issued by the Foreign Office as well as his driving licence. Police also contacted the US Embassy which sent its security chief to the police station.

"We have impounded his car and have also kept his diplomatic card and driving licence. We informed the Foreign Office and handed him over to US Embassy officials as per rules," another officer said.

Police also registered a criminal case against the diplomat late on Saturday night on the complaint of the victim's families. In the FIR registered at Kohsar Police Station, Hall has been booked for unintentional murder through rash driving.

An officer said police cannot arrest or prosecute him due to his diplomatic immunity. "The case will be dealt with by the US embassy and govt itself," he said.

Meanwhile, the Foreign Office said they were looking into the incident.

"An accident involving a US Embassy vehicle occurred in Islamabad. Ministry of Foreign Affairs is looking into the matter. Investigations are being carried out," tweeted FO spokesperson Dr Mohammad Faisal.

Further, the US embassy in a statement confirmed the incident, saying they are in contact with the local authorities.

In a stark similarity, in February 2013, a Capital Development Authority (CDA) employee died and his companion was injured critically when an over speeding vehicle with US embassy number plate hit their motorcycle.
On Friday, the IHC had ruled Col Hall
does not have absolute immunity
.
He had already been put on a travel "black list", which meant airports had been told not allow him to leave.
Neither the US or Pakistan has officially commented on Saturday's news.
Relations between Washington and Islamabad have been in the spotlight since
US President Donald Trump's New Year's Day tweet
, where he accused Pakistan of "lies and deceit".
In January,
the US government said it was cutting almost all security aid
to Pakistan, saying it has failed to deal with terrorist networks operating on its soil.
Pakistan has denied the accusations and responded by saying it would no longer share intelligence with the US.