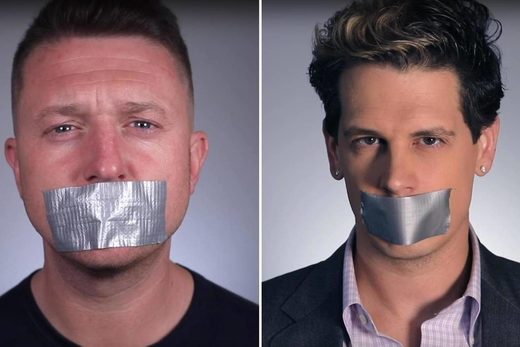 A number of scuffles broke out as thousands of people descended on London for a 'Day for Freedom' rally that saw appearances from high-profile far-right speakers.
The rally, which organisers said was to "defend free speech", began at Whitehall in central London at 3pm, with members of the right-wing 'Democratic Football Lads Alliance' and the 'Veterans Against Terrorism' groups in attendance.
Video footage emerged on social media of a number of scuffles breaking out amid a counter-protest by anti-fascism activists.
Counter-activists were filmed chanting "Nazi scum" repeatedly at those attending the march as they walked by.
Despite some unrest, a number of people took on social media to state that the march remained "peaceful".
Police said that one man was arrested in connection to a public order offence and possession of Class A drugs.
The Anti-Fascist Student Network (AFSN) had urged opponents to join the planned counter-demonstration, saying: "Tommy Robinson may be trying to reinvent himself as a journalist, but he's still pushing the same hatred."

Comment: In other words, it was peaceful but for the presence of hateful Antifa types.


Mr Robinson, the former leader of the English Defence League, was one of many right-wing figures who made an appearance at the event.
Leading member of the 'alt-right' movement Milo Yiannopoulos and right wing Canadian activist Lauren Southern, via video link, also spoke.
Ms Southern was held by police in Calais and refused entry to the UK in March.
She claims she was detained under the Terrorism Act after previously giving out leaflets and posters "about Islam" in Luton and has been "permanently banned" from the UK.
Speeches were also made by YouTuber Mark Meechan - best known as Count Dankula - and UKIP leader Gerard Batten.
Mr Meecham became an outspoken free speech advocate after he was fined £800 for teaching his girlfriend's pet dog to perform a Nazi salute.

Comment: This shouldn't need to be said, but given what happened, it does: IT WAS A JOKE!!!


In a statement, Mr Robinson said before the event:
"This is bigger than me or any of us as individuals so we have to stand up together to defend our freedom of speech.

"We decided to focus our efforts on making sure we pull off a large scale, credible event. So we won't be marching - instead we have an incredible line-up of speakers, performers, videos and content to offer on the day.

"We want to make May 6 the biggest Free Speech demonstration the UK has seen so please, help us make it happen."