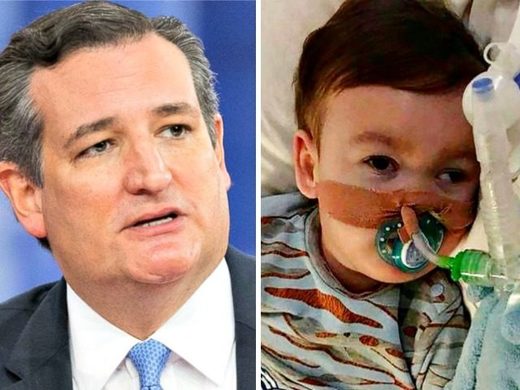 Sen. Ted Cruz took to Twitter to explain the plight of U.K. toddler Alfie Evans and to warn Americans about the dangers of "socialized medicine."
In a tweetstorm Wednesday, the Republican senator from Texas described
Alfie's situation from his birth and subsequent illness, to the refusal of both the U.K. and European courts to allow Alfie's parents to pursue treatment for him at a Vatican hospital
:
Cruz said the events "remind us of the tragic case of Charlie Gard last year."
"It is a grim reminder that systems of socialized medicine like the National Health Service (NHS) vest the state with power over human lives, transforming citizens into subjects," the senator said.
"I urge the UK government to grant the Evans family's request to treat their precious child in Italy," Cruz continued. "Americans strive to achieve the promise of 'life, liberty, and the pursuit of happiness' for all our citizens, no matter how young or old."
As Breitbart London
reported
, more than 100 supporters of the toddler and his parents gathered outside Alder Hey Children's Hospital Wednesday night, continuing their two-week vigil.
Alfie's parents have also received support in a tweet from Polish President Andrzej Duda:
In the U.S., Ashley McGuire, a senior fellow with the Catholic Association, called out Catholic bishops and lay leaders in the U.K. for "
abandoning
Catholic social teaching and splitting from the Pope by defending the government instead of Alfie and his family."
"The Church has long been the first and only voice to speak out for truth and defend the vulnerable," McGuire said in a statement. "True to that legacy, the Pope spoke out in defense of Alfie Evans and the fundamental human rights of his parents to do all they can to save the life of their child."
"It is moments such as these that Catholics, especially leaders like Austen Ivereigh, are called to stand apart from the fray and defend the truth even when it contradicts the powers that be," she added. "We thank the Pope for his leadership and look to U.K. Catholic leaders to join him in standing for Church teaching."