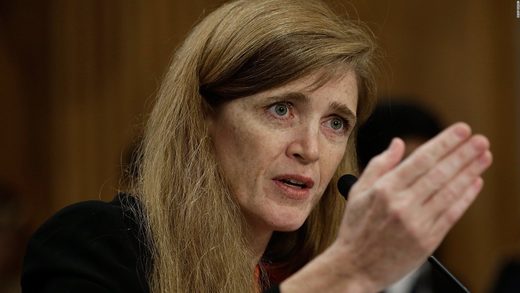 Obama's echo chamber of Deep State operatives came out swinging after Attorney General Jeff Sessions fired Andrew McCabe late Friday evening.
Former CIA Director and Twitter troll, John Brennan attacked President Trump for celebrating McCabe's firing.
Brennan tweeted to Trump: When the full extent of your venality, moral turpitude, and political corruption becomes known, you will take your rightful place as a disgraced demagogue in the dustbin of history. You may scapegoat Andy McCabe, but you will not destroy America...America will triumph over you.
Former US Ambassador to the United Nations, Samantha Power responded to Brennan's tweet by issuing a veiled threat to President Trump.
Power tweeted:
Not a good idea to piss off John Brennan.
Samantha Power backpedaled after receiving a HUGE backlash from Trump supporters.
Power followed up her veiled threat by saying, "Whoa! Just home & see much misinterp. of earlier tweet. It's testament to polarized times that it cd be misread as referring to something other than Brennan's indignation. So will translate: not a good idea to upset @JohnBrennan bc/ he will raise an angry (& eloquent) voice."
We just misinterpreted Power's threat; we're too stupid to read between the lines.
Typical claim by Deep State criminals like Samantha Power. They're the smartest people in the room and we commoners simply misinterpret everything they say.
Of course we know what Samantha Power meant.
Anyone who crosses the Obama's Deep State operatives will be dealt with.
Many people called for these threats by Power and Brennan to be
investigated
.
Samantha Power reportedly
unmasked 260 Americans
in her last year at the State Department with zero explanation. Why would a UN Ambassador need to unmask hundreds of American citizens?
It's time to lock all of these criminals up.