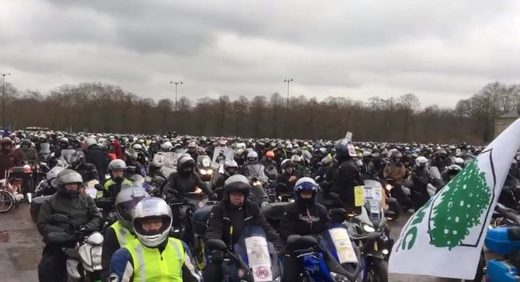 Thousands of bikers and car drivers have protested this weekend against the government's plans to change the speed limit on main roads from 90kph to 80kph.
The controversial change, which is due to come into force by July 1 this year,
will see the limit cut on all roads on which the two carriageways are not separated by a physical barrier
.
This will account for more than 400,000km of roads across the country, and government proponents - including Prime Minister Edouard Philippe -
say the reduction in speed will save
around 350-400 lives a year by July 2020.

Comment: They don't know that. It's actually just another means of spending money the govt doesn't have in order to levy more taxes.


And yet, the measure has proved controversial, with significant opposition from drivers' groups, who contest especially the notion that reducing speed will save lives.
The biggest protest yet against the change took place this weekend (Saturday February 3) in Paris, near the Bois de Vincennes, including representatives from motorist opposition group,
Fédération Française des Motards en Colère (FFMC)
.
Other protests also happened in Toulouse, Châteauroux, Orléans, Rennes and Laval, with thousands of bikers and drivers joining together against the speed plans.
Thousands of bikers lined the streets, gathered in crowds, and even blockaded main roads for hours by driving deliberately slowly as a sure sign of their discontent.
"It is not by lowering the speed limit that we will save lives," explained Jean-Marc Belotti, coordinator of the FFMC for the Paris area, speaking to
news source France Info
. "On the contrary,
this will create problems with overtaking, since all the vehicles will be going at the same speed.
We must stop this repression against road users."
More similar protests are set to take place next weekend too,
according to reports.