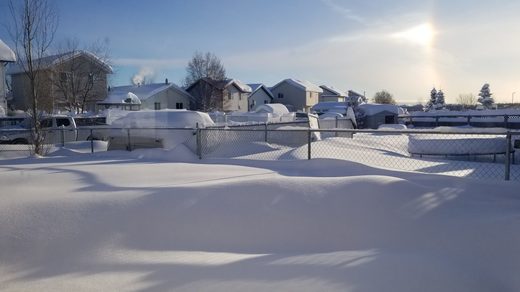 Grande Prairie got
23.2 centimetres of snow Friday
, nearly doubling the previous record and topping off five days straight of heavy snowfall.
The previous record snowfall for February 2nd was 12.2 centimetres set back in 1999.
RCMP issued a travel advisory Friday, due to snow and icy road conditions, especially along Highway 40. Since Monday, 51.2 centimetres of snow has fallen in the city.
City of Grande Prairie snow removal crews continue to work around-the-clock to clear all priority one and two routes. Transportation manager Robert Carroll says
it will take at least

two weeks

to clear windrows
off of priority two roads, with a focus on school zones.
"Hopefully we will make good progress over the weekend but a break in the continuous snowfall will be nice."
Residential areas are on hold for the weekend. They'll be in Mountview, Summit, VLA/Montrose, Hillside, Crystal Heights, Ivy Lake, and Crystal Landing on Monday.