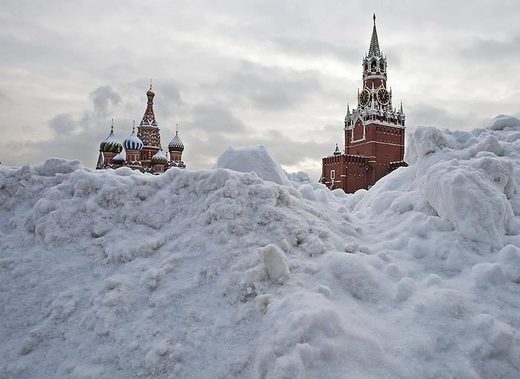 Frozen eyelashes and broken thermometers. This is what winter in Russia looks like this year with the country experiencing record lows.
In the Siberian region of Yakutia, home to nearly one million people, brutal winters are a normal part of life.
But even there, the temperatures are unusual this year going as low as minus 67 Celsius.
In January, it came close to Russia's coldest temperatures ever and even broke some thermometers.
Researchers say that one of the reasons for such a cold winter is the moving of cyclones.
TRT World
's Lucy Taylor reports on how some people in Russia are dealing with record lows.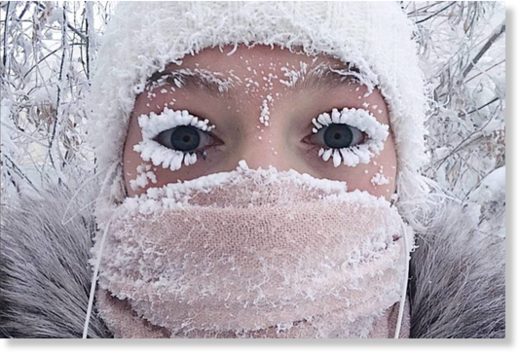 Comment:
Sputnik
reports
Sunday 4th February see's a record breaking blizzard in Moscow:
Record Blizzard Hits Central Russia: Moscow Under Snow Siege



Heavy snow has struck the Moscow region, as people struggle to make their way through large snowdrifts. Local authorities efficiently cleaning away the intense falling snow have reported large traffic jams, stranded airport passengers, and dozens of fallen trees.

Meteorologists warn that is only the beginning.



According to Moscow authorities, record snowfalls such as the current blizzard

occur once in a century

. Current temperatures in the central region are barely above 0 degrees Celsius, not Arctic-level cold, but city residents are barely making their way through the snowy streets.

Local media reports dozens of fallen trees in some parts of the city, while some districts in the greater Moscow Region have reportedly suffered electricity outages.


Meanwhile, the number of flights delayed in Moscow airports on Saturday over bad weather conditions has reached 120, while at least 16 have been canceled.





One flight from Vnukovo, and a reported 15 others from Domodedovo were canceled.

An estimated 22 flights have been delayed at Vnukovo airport, 15 in Domodedovo, and 83 in Sheremetyevo. Some hardy citizens nonetheless are enjoying the scenic views caused by the foul weather.

Meteorologists forecast that the record blizzard will continue Sunday and Monday, possibly ending with freezing temperatures and clear weather. No casualties or serious incidents have been reported since the outbreak of the snowstorm. Schools as well as other municipal and governmental offices are functioning normally.

Local municipal services have mobilized snow cleaning equipment and resources to fight the consequences of the storm. Authorities recommend avoiding long walking trips around the city and its outskirts as well as planning safe travel routes in advance to avoid possible risk.

The current temperature in Moscow is hovering just above 0 degrees Celsius, as heavy snow showers continue unabated.