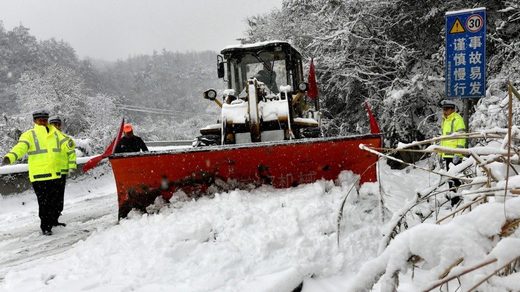 Heavy snowfall in China continued to wreak havoc on Monday, damaging houses, agriculture and power facilities, with authorities saying
21 people have been killed
and millions hit in the last one week.
The provinces that have been badly hit by the weather are Anhui, Henan, Jiangsu, Hubei, Hunan, Shaanxi, Shanxi and Chongqing Municipality, the China National Commission for Disaster Reduction said.
More than 3,700 people have been relocated and 14,000 are in need of emergency assistance, said the commission, noting that over
700 houses had collapsed
and nearly 2,800 were damaged, state-run
Xinhua
news agency reported.
The weather has affected more than 2,33,100 hectares of farmland, with more than 8,100 hectares destroyed, causing direct economic losses of 5.55 billion yuan ($854 million), it said.
Nineteen expressways in northeast Liaoning province have been closed or controlled since the snow started last night, according to local transport authorities.
The snow will result in icy roads, the local observatory said in its forecast.
Liaoning will see temperatures plunge by up to 10 degrees Celsius due to the snowfall, it said.
In Xinyang city, central China's Henan province, snowfall from Wednesday to Friday,
the worst since local records began in 1951
, killed one person and injured three others.
Primary and middle schools in the city have suspended classes since Thursday.
The disaster flattened 26 houses and damaged over 2,000 hectares of crops, causing total economic losses of 219 million yuan ($33.8 million), officials said.
In eastern China's Anhui province, quilts and coats have been distributed to residents to withstand the biting cold, following heavy snow since Wednesday, the worst in Anhui since 2008.
The snow has affected 1.5 million people and damaged over 1,60,000 hectares of crops, causing total economic losses of 3.5 billion yuan
,
Xinhua
quoted the provincial government as saying.
Meanwhile, the meteorological authority today
renewed a yellow alert for a cold front across the country.
From Tuesday to Wednesday, the temperature is expected to drop by six to eight degrees Celsius in northern, northeastern, central and southern China, including parts of Inner Mongolia and Yunnan, the National Meteorological Center (NMC) said.
China has a four-tier colour-coded weather warning system, with red being the most severe, followed by orange, yellow and blue.