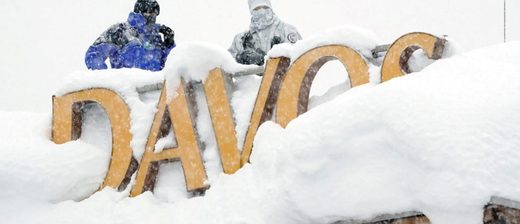 Scientists have once again set up a mock Arctic base camp to educate world leaders about man-made global warming at the World Economic Forum in Davos, Switzerland.
Climate scientists hope their mock camp illustrates how global warming could impact the Arctic, but the "
Gore effect
" may make it harder to get the message across. Davos has seen frigid temperatures along with about six feet of snow in the last six days.
There was so much snow, authorities evacuated some neighborhoods due to avalanche concerns, CNBC
reported
. Global elites headed to the conference had to force their way through heavy snow drifts.
CNBC reported that "heavy snow had already blocked the rail line through the Alps from Zurich, and villages along the route were at the highest level of avalanche alert." Davos visitors were forced off trains and onto "a half-hour bus trip on back roads around the blockage and then loading them onto a crowded red commuter train that ran the rest of the way into Davos."
The camp was first set up by climate scientists, including those from the British Antarctic Survey, at Davos in 2017 to "convey that long-term negative changes in the Arctic pose serious socio-economic risks to the rest of the world," according to a January 2017 World Economic Forum
blog post
.
Scientists hope to convince global leaders to take drastic actions to fight global warming. Climate has been a major topic of past Davos meetings, and even though most of the world signed onto the Paris climate accord, experts fear it's not enough to stop "dangerous" warming.
Indeed, high-profile celebrities and politicians have visited the camp in the past, including former Vice President Al Gore. Fashion designer Stella McCartney visited the camp this year, obviously bundled up to stay warm in the midst of all that snow.
"Scientific evidence on Arctic change is unequivocal and it is sending us a warning cry that has profound consequences and global risks," scientists wrote in 2017. "Yet the risks from Arctic change remain invisible to the world's most powerful decision-makers. We wanted to change that."