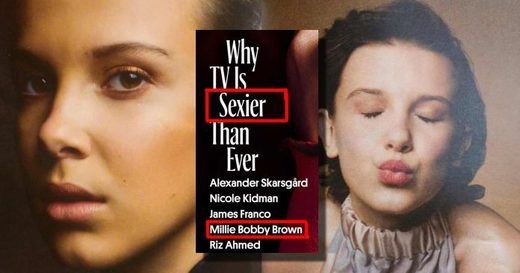 A 13-year-old girl was named one of Hollywood's "sexiest" actresses in one magazine, and featured in a series of suggestive poses in another.
While she is only 13 years old, actress Millie Bobby Brown has become famous for her role in the Netflix hit
Stranger Things
, and she has also become
Hollywood's latest attempt
at normalizing sexual infatuation with children.
Brown was the only child featured in a line-up of 13 actors and actresses who "prove that Television has never been hotter" and "sexier" according to a
story
from
W Magazine
. The online excerpt features a quote from Brown in which she discusses how she was asked to change her appearance in order to play the role of "Eleven" on
Stranger Things
.
"During the screen test for
Stranger Things
, one of the directors came up to me and said, 'Bzzz,' over my head," Brown said. "He then asked, 'Are you ready?' I was like, 'For what?' And he said, 'To cut all your hair off!' The next day I got the job and I cut it. My hair was down to here, but it's only hair. After that, I was called 'boy' a lot."
The Spanish version of the magazine translated the title to "Why is television sexier than ever?" according to a
story
from Play Radio FM, raising serious questions about why a 13-year-old is being referred to as "sexy," or even "hot."
One Twitter user responded to the magazine, writing,
"She is 13. I repeat. 13. She is not a sexy woman, is a kid.
Shame on all those publications sexualizing her."
Brown was also featured on the cover of the Spanish magazine
Mujer Hoy
, or
Woman
Today
, with the headline "Why We Love Millie."
The magazine featured a series of photos of Brown in "sexy" or suggestive poses.
A Twitter user posted the photos online, writing in Spanish, "Millie Bobby Brown is NOT a woman, she is a girl."
Another Twitter user commented, "People are calling Millie Bobby Brown 'sexy' and uh Y'ALL ARE AWARE SHE IS 13 YEARS OLD RIGHT."
Millie Bobby Brown is talented, composed and precocious, but at the end of the day, she is just a 13-year-old girl. When the entertainment industry begins to give her the label of "Sexy," it teaches both Hollywood insiders and the public that it is acceptable to sexualize a child.
While the current Hollywood sex scandal became public with the allegations that produce
r
Harvey Weinstein
had an extensive history of sexually harassing and assaulting women who were typically in their early 20s, it has since expanded to include the revelations that actor
Kevin Spacey
has had sexual relationships with and attempted to sexually assault teenage boys.
When child actor
Corey Feldman
attempted to speak out about the ongoing problem of pedophilia in Hollywood
on an
episode
of
The
View
in 2013, Barbara Walters interrupted him, saying, "You're damaging an entire industry!" Now, the increasing number of sexual assault allegations against some of the most prominent directors, producers and actors in Hollywood is serving as a reminder that Feldman was not attempting to damage the industry-the industry had already damaged itself.
For years, the ongoing problem of sexual predators in Hollywood has been ignored, kept behind closed doors, and even justified. Because there are countless actors and actresses who have had their lives scarred because they were viewed as sexual objects when they were children, it should be seen as incredibly troubling when 13-year-olds are publicly referred to as some of Hollywood's "sexiest" actresses.