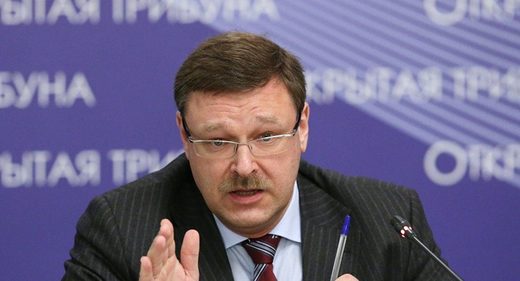 Russian senator Konstantin Kosachev suggests that Moscow should compile a list of foreigners who made a contribution to deteriorate relations of their countries with Russia.
"Possibly, soon we will need to draw up our 'Browder List' of foreigners who had a decisive role in worsening relations of their countries with Russia. Those who initiated these sanctions, " Kosachev, who chairs Russia's Federation Council (upper house) International Affairs Committee, wrote on his Facebook page.
"So that people of these countries could know their 'heroes' by sight and could ask them why this country has such bad relations with a nuclear power, the biggest country in the world and a permanent member of the UN Security Council," Kosachev said.
William Browder is an American-British financier, who lobbied for Congress to pass the Magnitsky Act to punish alleged Russian human rights violators. He was tried in absentia in Russia for tax fraud.
Speaking on Canada's new sanctions against Russia, the senator stressed that this is a hostile act of one state against another one and Russia's tit-for-tat measures against some Canadians were "absolutely wise and legitimate."
Canada's sanctions are "an awkward claim to have a role of an investigator, a judge or a judicial enforcement agent simultaneously," Kosachev said, stressing that "the Canadians should not satisfy their ideological ambitions at our expense."
On Friday, Canada's government imposed sanctions on 30 Russian citizens
under the recently adopted Justice for Victims of Corrupt Foreign Officials Act, which is also known as the Sergei Magnitsky Act and is a Canadian version of the U.S. Sergei Magnitsky Rule of Law Accountability Act. Besides, the sanctions were introduced against the citizens of Venezuela and South Sudan. There are a total of 52 persons on the list.
In response to the anti-Russian measures of Canada, Moscow decided to ban entry to Russia for a number of Canadians. Russian Foreign Ministry Spokeswoman Maria Zakharova said "the list is long, with dozens of names on it.".