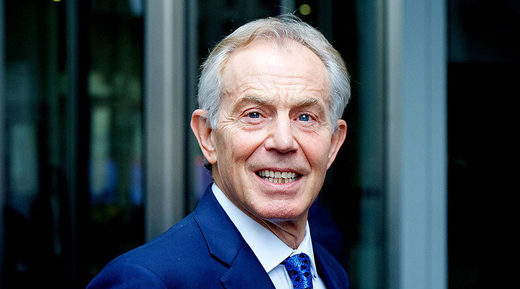 A third of Britons want former Prime Minister Tony Blair to be tried over his decision to invade Iraq alongside the US back in 2003.
According to the latest YouGov poll, 33 percent of respondents said the former Labour leader "knowingly misled Parliament and the public" and should therefore be prosecuted as a "war criminal."
The poll comes just after a High Court ruling blocked an Iraqi general's bid to prosecute Blair over his decision to intervene in Iraq.
Abdul Wahed Shannan Al Rabbat sought a private prosecution against Blair, who he accused of committing a "crime of aggression."
The court, however, argued no such crime exists in England and Wales.
It backed a previous ruling by the House of Lords that there is no such thing as the "crime of aggression" under British law.
Michael Mansfield QC, representing the Iraqi general, had argued that the international law banning aggressive war applied to Britain too, and that it had already been enshrined in UK law during the Nuremburg trials at the end of World War II.
Former Labour MP George Galloway hit out at the ruling, saying:
"If there really is no law against launching an 'aggressive war' in England, then the law is an ass."
"The decision by two High Court judges that Tony Blair cannot be prosecuted for the war in Iraq gives immunity and in perpetuity to any two-bit hustler who gets his or her hands on state power in Britain and lays waste the lives of others and their own country's vital interests."
He also backed the claim made by Mansfield that the crime is already part of British legislation.
"In the Nuremberg Trials Britain prosecuted the surviving beasts of German fascism for precisely the crime of launching 'aggressive war.'
"Even though what the genocidal dictator of Germany did was perfectly 'legal' under German law, even though there was no international legal definition of 'aggressive war,' Britain rightly tried the Nazi beasts and hanged a great number of them.
"From that moment onwards the de jure inadmissibility of such wars was established axiomatically in the British legal system."
The prosecution was based on evidence from the Chilcot inquiry published last year, which looked into the events that led up to the Iraq War.
The inquiry found there was no intelligence to substantiate the claim on which Blair justified the UK's intervention in Iraq, namely that the Iraqi leader Saddam Hussein had weapons of mass destruction (WMD).
Families of British soldiers killed in the Iraq War also crowdfunded £150,000 (US$194,000) for a forensic analysis of the Chilcot inquiry that could lead to a prosecution against Blair.
The Iraq War cost the lives of 179 British soldiers and potentially tens of thousands of Iraqi civilians, while costing the UK economy an estimated £9.2 billion. It is widely held to have caused the bloody sectarian conflict that brought about the rise of Islamic State (IS, formerly ISIS/ISIL).