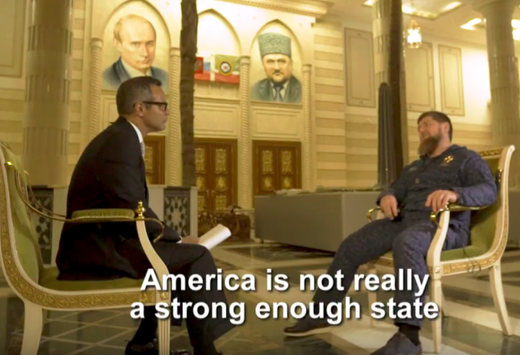 On July 15th, Russian media published excerpts from the American TV channel HBO's interview with the head of the Chechen Republic, Ramzan Kadyrov. The full version of HBO
Real Sports
' program on Chechnya is set to be released on July 18th. In this interview, Kadyrov voiced his understanding of US-Russia relations with his characteristic directness and typical disregard for diplomatic niceties.
In Kadyrov's words, the US is pursuing an anti-Russian policy but, the leader of Chechnya emphasized, the United States is "not strong enough for Russia to consider it an enemy." Kadyrov added: "Even if our state is completely destroyed, our missiles will automatically fly there."
Although Kadyrov's words seem to have terrified the American journalist, he essentially said nothing new. In both Russia and the US, there are mechanisms established for automatic rocket strikes in the case of a decommissioning of all control centers (a "dead hand"). Bearing this in mind, Russia remains the only country assuredly capable of destroying the United States. Even China does not wield such capability.
But why did Kadyrov feel the need to remind American journalists (and through them, US politicians and the military) of this obvious truth? In my opinion, the answer lies in the dialogue between the US and Russian Presidents that began on July 7th in Hamburg during the G20. Donald Trump called the talks with Vladimir Putin "great", while his Russian colleague was, as always, restrained in his assessment of the meeting. Out of the abundance of evaluations offered by political analysts and experts, the most widespread point that indicates some kind of progress made is on the truce in southern Syria. The ceasefire established there appears to be holding, a fact which inspires cautious optimism.
However, as
we have written before
, the Trump Administration is on other issues continuing to push a harsh line against Russia, such as in the conditions they have set for returning the illegally seized Russian diplomatic property in the US, the lifting of the anti-Russian sanctions, and their accusations that Russia is de-facto occupying Ukraine (see Rex Tillerson's speech in Kiev). The reason behind this harsh approach is either the colossal pressure on Trump in Congress and the Senate or the imperial arrogance inherent to the American establishment, a point which is relevant in the sphere of domestic American politics. Yet Russia has to deal with the consequences, not the reasons of American rigidness and has the right to respond in kind.
Kadyrov's aggressive and deliberately rude form of statement is a mirror response of the Russian hawks to the actions and statements of the American hawks. We should consider the Russian foreign ministry's statement on the possibility of American diplomatic property in Russia being seized and kicking out 35 American diplomats in response to the American side's actions in December 2016 in this same vein.
This is not aggression in pure form, but a form of dialogue in which toughness is answered with toughness and rudeness with rudeness. A softening of the American side's tone would lead to an automatic warming of the tone of Russian statements. But it appears that Russia is tired of waiting around for any softening and has started pushing more stringent dialogue with the new US Administration.
In my opinion, there is one interesting and important nuance in Kadyrov's words which raises his responses beyond the framework of narrow diplomatic sparring. His "reminder" for Americans of the vulnerability of US territory to Russian missiles and his coarse proclamation that the United States is insufficiently strong is a straightforward statement to Washington that their imperial might is a thing of the past.
Kadyrov voiced what Vladimir Putin or other high-ranking politicians cannot. This statement is a simple fact: the US is a declining empire. It may still be superpower #1, but its military and economic potential is waning. On the other hand, Russia's military might - and not only its nuclear missile potential - is constantly growing. If we are correct in our assessment, then this is what Kadyrov wanted to stay.
Allow us to repeat ourselves in clarifying that this is not pure confrontation, but is rather talking from a position of strength and a symmetrical response to the US administration's anti-Russian actions. This is normal dialogue between great powers, not a game of giveaway in which Russia is the only true partner.
The era of unchallenged US hegemony is over. A new form of world order is coming to replace the unipolar world. Two great economic powers, the US and China, and two great military powers, the US and Russia, are forming a complex configuration of alliances and competition. Through its actions, however, the new White House administration apparently wants to make a strategic alliance between China and Russia against the declining superpower #1 impossible.