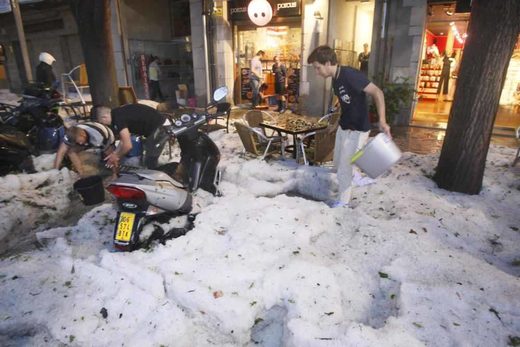 Torrential rain accompanied by huge amounts of hail hit the city of Girona in Spain's northeastern region of Catalonia, on Friday, June 30, 2017.
According to the Meteorological Service of Catalonia (SMC), in just 30 minutes the storm left Girona 53 liters per square meter as
reported
in
El Periódico de Catalunya.
The Mayor of Girona, Marta Madrenas said that the city suffered
"a very complicated, unusual situation, as never before had been seen in the city."
He indicated that although there were alerts for intense rainfall and to prepare for some flooding "the sanitation system was unable to absorb all water."
The storm did not cause any injuries but there was material damage to private property, housing and commercial buildings. The Girona Fire Brigade received 299 calls from Girona and surrounding areas as a result of the storm
reported
Diari de Girona
.
The accumulated rainfall totals include: 65.6 liters in Girona; 45.2 in Cassà de la Selva; 41.4 in Fornells; 29.5 in Castell d'Aro; 26.7 to Sant Pere Pescador; 26.6 in Tallada d'Empordà or 11.4 liters per square meter in Olot.
The intensity of rain at intervals of five minutes in the city of Girona reached 143 liters per square meter in the rainfall station of Ciutadans de Girona street and 102 in the Palau, between 19:15 and 19:30. According to the data of Aigües de Girona, at the station of Sarrià de Ter it reached 196 liters per square meter.
These figures are exceptional in recent decades
according
to SEGRE.com.