About shellycheval
I grew up in working class family in Michigan-moved to Florida, Hawaii, Texas, Florida,Texas, Washington State, Maryland
-3 ex husbands with psychopathic
tendencies--now single and will stay
that way.
-college English professor teaching lit, composition, & commumication classes
-minor degree in anthropology and Archaeology
-owner manager of small horse farm
-caretaker and guardian of 27 acres,
3 horses, 3 cats, 3 dogs
-have lived in MD (next to The Evil Empire) for 20 years.
Interests
learning, reading, horses, history, writing, drawing & painting, working on my farm, movies, Celtic music, talking with friends, Mandalay Beach, watching and feeding wild birds, playing with the dogs and cats,learning, The Work.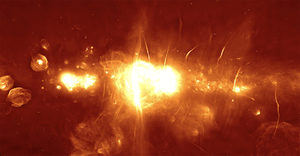 Galactic Center: South Africa's MeerKAT Radio Telescope captured this panorama of the center of the Milky Way. Area approx. 1,000 light-years by 500 light-years
Who controls the past controls the future. Who controls the present controls the past.
- George Orwell
Recent Comments
Noone adds insult to injury without a clinton. Exiles head to the pyramid drop dead self ignite and send her dad a post card.
---
A tiny new island of lava has formed Has some idiot built a house on it yet?
---
Funny even thinking What the fuck are you reading.....................
---
Than word little gasps. As true men dont glamor.
---
Youre converse and guess by dignity.