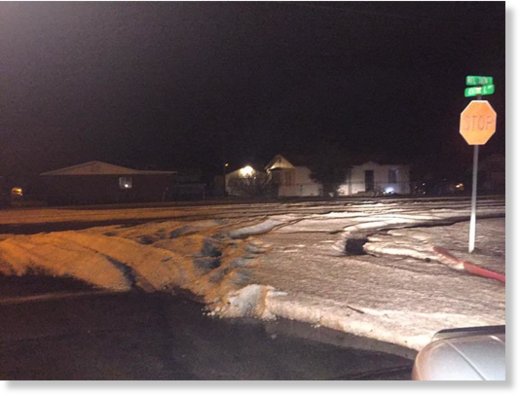 Residents in Safford got more than just rain from an overnight storm.
"The cell just came out of nowhere," says longtime Safford resident, Skyler Evans.
Hail fell and according to Brandie Ybarra who posted a photo on our Facebook page,
it broke out windows on two of her vehicles.

National Weather Service meteorologists in the Tucson office estimated the hail was 2 inches in diameter and 6 inches deep in some spots.
"There were definitely people that were scared there were people running and people scared," said Safford resident, Chance Campbell.
Evans said, "it was coming down so hard, you've been in heavy rain that you can't hardly see only it was solid hail. We saw quarter sized, dime size
and even softball size hail."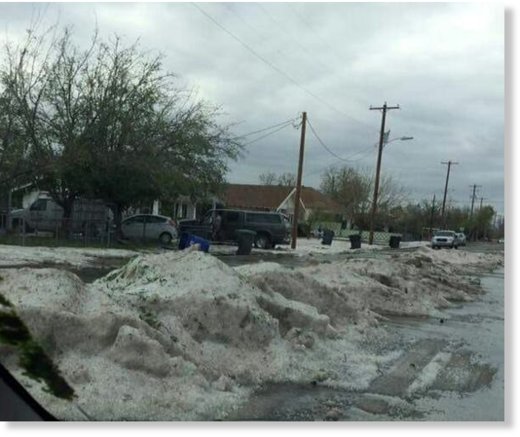 The golf ball sized hail filled Safford, streets, making it look like a winter white out.
The hail storm was also captured in a photo by Valerie Boughner. Her photo shows her yard covered in white.
Heavy rain flooded home and roadways. "We got six and a half inches at my house," said Evans.
And the devastation wasn't limited to cars and homes.
"The birds that were roosting for the night are dead all over the ground," said Evans.
As dawn broke, Safford residents weren't quite out of the woods yet as far getting more precipitation.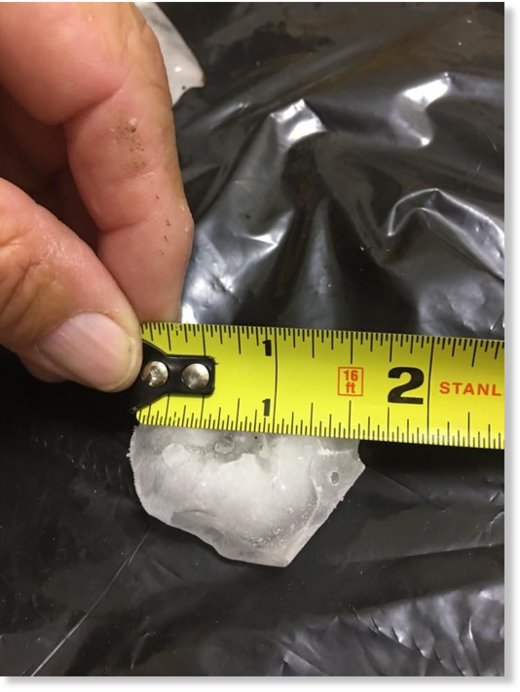 "There is enough lingering moisture to justify at least a slight chance of showers and thunderstorms into this afternoon generally east of a Safford-Willcox-Bisbee line," Tucson NWS meteorologists said.
Residents in the Superstition Mountains area got front row seats to a dazzling light show during Saturday night's storms. Andrew Fedie posted a photo of the lightning to our Facebook page.
The Valley of the Sun lives up to its name Sunday, but widely scattered showers are expected across Eastern and Northeastern Arizona this afternoon.
"A few isolated showers or thunderstorms are possible across the White Mountains to maybe a 10 percent chance across our far eastern portion of Gila county," NWS meteorologists said in Phoenix.
Lingering moisture and daytime heating will be the fuel for shower and storm development along the Mogollon Rim and north, as well as along the Arizona and New Mexico border.
Showers aside, forecasters in Flagstaff said there are signs the rain activity is tapering off.
"It is quite a bit drier today than on Saturday and although a few showers and thunderstorms will develop with daytime heating instability values will be on the low side. Mainly a fine fall day in store with cumulus clouds to add some beauty to the sky," NWS meteorologists in Flagstaff said.
A drier air mass will be in place by Monday.
Otherwise, look for lots of sunshine in the Valley for the rest of this weekend and through all of next week.
By Thursday, a disturbance will bring some breezy to gusty winds across Arizona, and drop temperatures marginally.
In Metro Phoenix, look for highs in the low to mid-90s Sunday through next week. Morning lows will be back down to the 60s by Tuesday.
Safford: