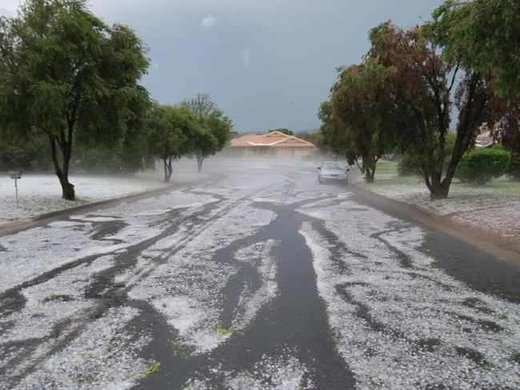 A LARGE storm ripped through Parkes, in the state's central west overnight, bringing down dozens of trees and damaging buildings.
Strong winds and hailstones, some as big as golf balls, caused major damage.
The wild weather swept through the town from about 7pm last night, with the majority of residents without power for several hours.
SES crews are today working to clean up the damage, with many residents still yet to have their power restored today.
Locals reported hailstones the size of golf balls and ferocious winds lasting for less than 10 minutes, but causing significant damage across the township.
The SES received more than 90 call-outs, including trees down, damaged roofs and other hail damage to property.
The front wall of Gecko Take Away shop on Forbes Rd, which closed eight weeks ago, collapsed onto the road, destroying an Australia Post box.
Star Hotel owner Nicholas Kelly said his pub had been without power for hours, costing them "heaps of money".
"We lost a lot of power, so we had a bit of problems with fridges and storage and had to go look for more back-up generators," Mr Kelly said.
"The storm only lasted five minutes but the amount of trees that are down is astronomical."
SES crews were working to clean up the debris and restore power to the township.