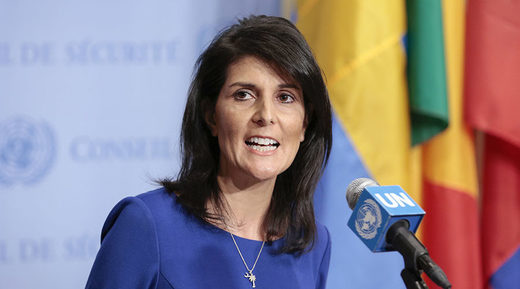 Nikki Haley, the new Washington envoy to the UN, has slammed Russia and spoken out in favor of President Trump's travel ban in her first interview in the new role.
"Take it seriously. We cannot trust Russia. We should never trust Russia," she told
NBC News
' Matt Lauer.
Haley also backed President Donald Trump's ban on issuing visas to travelers from six majority-Muslim countries, saying, "It's not a Muslim ban. I will never support a Muslim ban. I don't think we should ever ban anyone based on their religion. That is un-American. It is not good."
Hours before the interview was broadcast, the revised order of the travel ban was blocked by a federal judge in Hawaii.
"He [President Trump] is saying, let's temporarily pause, and you prove to me that the vetting is okay, that I can trust these people coming through for the American people. Every American citizen should appreciate the fact that we've gotten so far away from vetting that we need to get back into it," Haley said.
During her first appearance in the UN, Haley also targeted Russia for its "aggressive actions."
However, these latest comments aren't the only reason the official has been in the news this week: on Tuesday, Haley posted a photo on Twitter showing snow in New York, and admitted she was binge-watching the FX TV series 'The Americans', a drama about the marriage of two KGB spies posing as US citizens during the Reagan administration.
The internet duly responded, with many, surprisingly, reading a US-Russia conspiracy in the choice of series. For example, one tweet read: "Art imitating life or is it?"
"Isn't that the one where Russians infiltrate our government?" another user posted, while some wondered if Haley was using the series to try to find out more about Trump.