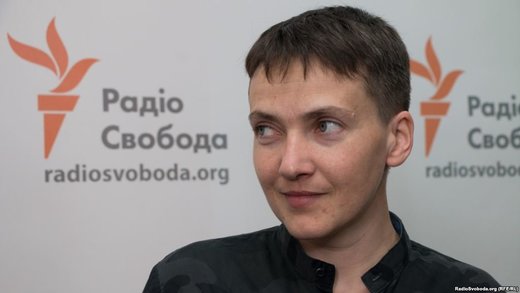 Ukrainian lawmaker Nadia Savchenko has caused controversy by suggesting that Kyiv must accept Moscow's grip on Crimea for the time being if it wants to regain control over eastern territory held by Russia-backed separatists.
Speaking on 112 Ukraine TV
on January 17, Savchenko said that "the only peaceful way" to resolve the status of the eastern Donbas region in Kyiv's favor is to put the issue of Crimea, which was seized by Russia in March 2014, "on the back burner."
"We must not abandon" Crimea or the Donbas, Savchenko said. But she suggested that in order to regain control of separatist-held territory in the east, Ukrainian politicians will have to "give up" Crimea "for a certain period."
She suggested that if Kyiv focuses on demands for the return of control over Crimea, the Donbas will become "another Transdniester" -- a reference to a sliver of neighboring Moldova that has been held by pro-Russian separatists since a war in 1992.
The only other way to regain control over the Donbas is by force, she said.
Russia took control of Crimea in March 2014 after sending in troops and staging a referendum condemned by Ukraine and 99 other countries in the UN as illegitimate.
More than 9,750 people have been killed since the conflict between Kyiv's forces and Russia-backed separatists erupted in the Donetsk and Luhansk provinces the following month.
Savchenko faced criticism over her comments from politicians and people posting on social media.
"
We will not exchange Crimea for the Donbas, and we will not give up the Donbas either. We will claw back every meter of Ukrainian land
," Iryna Herashchenko, first deputy speaker of Ukraine's parliament, said on Facebook. "We will fight for every Ukrainian. Ukraine is Kyiv and Lviv but also Crimea, Donetsk, and Luhansk."
Refat Chubarov, a lawmaker and leader of the Crimean Tatars -- an ethnic minority whose members mostly opposed Russia's takeover
and have faced oppression from the Russian-imposed authorities on the peninsula
-- said her remarks were "not only extremely unacceptable and deeply offensive, [but] cynical and traitorous to all citizens of Ukraine and the Crimean Tatar people, [some of whom] are still held hostage by Russian occupiers."
Comment:
The so-called oppression of the Crimean Tartars stems from oppressive and subversive tactics of their leadership.
Crimean Supreme Court bans Tatar Mejlis as extremist organization
The Supreme Court of the Crimean Republic has outlawed the 'Mejlis of the Crimean Tatar People' as an extremist group and has banned its activities on the whole territory of the Russian Federation. The decision was passed on Tuesday, RIA Novosti reports. The court ruling was not final, however, as it can be appealed in one month's time.

The Mejlis is the top legislative body of the Crimean Tatars between major congresses that are called Kurultais. Founded in 1991, it has a fairly long history, but is still mainly seen as an informal group because its orders only regulate the life of ethnic Crimean Tatars - who account for about 12.5 percent of the peninsula's population.

The relations between the Crimean authorities and the Mejlis have been strained ever since the republic's accession into the Russian Federation, but a full-scale conflict developed only in September 2015, after Mejlis leaders Refat Chubarov, Lenur Islyamov and Mustafa Djemilev used the Ukrainian ultranationalist association Right Sector to organize the "food and energy blockade of Crimea." The radicals stopped trucks carrying food to the Russian exclave from Ukraine and blew up several pylons of the power mains that supplied electricity to the peninsula.
History About The Crimean Tatar Mejlis, As Prosecutor Poklonskaya Bans Them As Terrorist's
The director of the Political Studies Institute, Sergey Markov, recalls that the Russian leadership had tried in earnest to find a common language with the Mejlis leaders. "President Vladimir Putin met with the former Mejlis speaker, Ukrainian parliament member Mustafa Jemilev personally to try to persuade him to enter the Russian legal space. Another senior Mejlis figure, owner of the ATR television channel, businessman Lenur Islyamov, at a certain point held the position of Crimea's deputy prime minster. Invitations to take a seat on the Crimean Cabinet of Ministers had been made to another senior Mejlis figure, Refat Chubarov. To no avail. All three men preferred to move to Ukraine and conduct subversive activities against Crimea from there, said Markov, a member of Russia's Civic Chamber.
Russian President Vladimir Putin's spokesman, meanwhile, reiterated that Moscow has no intention of ever ceding control of Crimea.
"Russia does not discuss the status and future position of Russian regions," Kremlin spokesman Dmitry Peskov said.
Savchenko, a former military aviator, says she was abducted by separatists in June 2014 and taken illegally into Russia, where she was jailed and tried on charges of involvement in what Moscow called the killing of two Russian journalists who died in the conflict.
Savchenko was convicted last year and sentenced to 22 years in prison but was pardoned by Russian President Vladimir Putin in May and released in a swap for two Russians held by Kyiv
. She was widely hailed as a hero upon her return to Ukraine, but has faced criticism from nationalists since then.